Bamberg
easyCredit German Basketball League: Brose Bamberg beat Braunschweig by a clear margin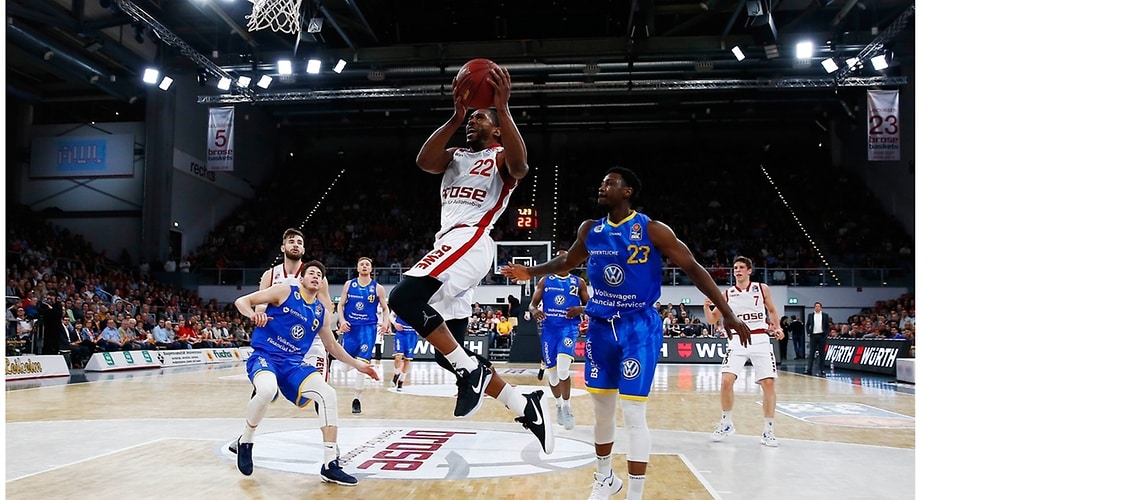 Bamberg, 02-27-2017
Brose Bamberg did what was expected of them and defeated Basketball Lions Braunschweig by 95:75 at home on Carnival Monday. As a result, the German champions and cup winners kept in touch with top-of-the-table ratiopharm Ulm, who still has one win more under its belt.
Against the sixteenth-placed club from Lower Saxony, Bamberg's Head Coach Andrea Trinchieri opted to rest his key players and give his young talents a lot of time on court. Trinchieri was without Janis Strelnieks and Elias Harris through injury, while the Head Coach gave Fabien Causeur and Vladimir Veremeenko a break and did not include them in the squad. He also only allowed old hand Nikos Zisis, sharpshooter Darius Miller and Daniel Theis, who has been in outstanding form for weeks, less than nine-and-a-half minutes on court. Ali Nikolic replaced them for more than 25 minutes, and the two talents Leon Kratzer and Louis Olinde also played around a quarter of an hour. All the same, Bamberg – after five evenly poised minutes (13:10) – opened up an unassailable lead by the end of the first period: Radosevic (14 points) buried two thunderous slam-dunks, while Miller, Melli and Staiger drained buckets from beyond the arc to make the score 27:17 after the first quarter. Braunschweig was able in particular to capitalize on the nine losses of possession by Bamberg and four offensive rebounds and so prevent the home side from leading by a wider margin at half-time (45:33).
The picture was different after the break: Bamberg was now more vigorous in defense and hardly conceded any open shots and points to Braunschweig. In offense, it was in particular top scorer Jerel McNeal (19 points) who was a hive of activity and scored ten points on his own in the third period. The American bagged two of his buckets from downtown after great passes by playmaker Ali Nikolic, as was also the case with the three to make it 75:47 at the end of the quarter and give Bamberg its highest lead. One interesting aspect: In taking the period by the clear margin of 30:14, Bamberg had almost only young German players on court with the exception of McNeal – Leon Kratzer (6 points), Louis Olinde (3 points), Patrick Heckmann and Maodo Lo – and yet Braunschweig were sent packing. Playmaker Ali Nikolic was particularly impressive: The young Slovenian scored eight of the 15 points in the final period, made four assists and snapped up three rebounds.
Andrea Trinchieri commented: "We not only won the game today, because these sorts of game are always tricky: You're the red-hot favorite, you're playing at home, but the opponents have a good coach and are the team that has improved the best in the league. Braunschweig fought hard and put us in a situation where we threw our young players into rough waters. That's very important for the youngsters and they did a very good job. Ali Nikolic is young, but I almost don't look at him as a 'young player.' He had to act as a leader. Louis and Leon played almost 30 minutes in total."
Trinchieri's team now face one of its toughest games in terms of atmosphere in the Euroleague on Thursday, March 2, 2017: The encounter on the road at Red Star Belgrade will be held in the smaller Aleksandar Nikolić Arena, where around 8,000 fanatical Red Star supporters will put on a deafening spectacle for Bamberg. The game tips off at 7 p.m.