Nyíregyháza
ERC: A mass of problems for Dominik Dinkel in Hungary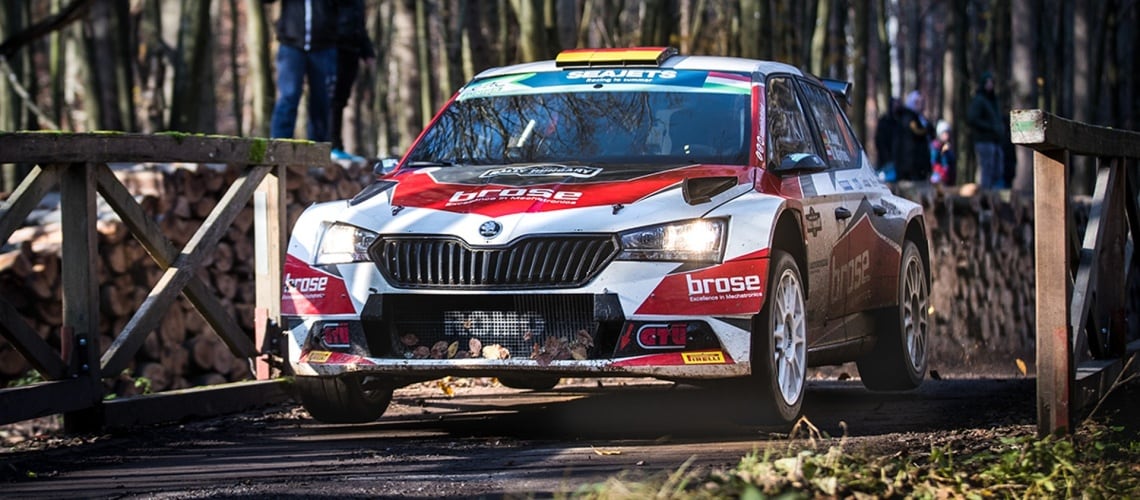 Nyíregyháza, 11-08-2020
Despite their many different problems at the "Rally Hungary 2020", the 4th run of the European Rally Championship (ERC), the Brose Rally Team Dominik Dinkel / Ursula Mayrhofer never gave up at any time and bravely bit through to the end.
The high level of difficulty of the Rally Hungary was well known, as well as the fact that in Hungary's Northeast, track experience counts even more than elsewhere. "Unfortunately, we were standing at zero", reports the 28-year-old Dominik Dinkel from Upper Franconia. "Dropping leaves and a lot of mud and dirt further increased the demands, caused slippery sections and moments of surprise, made the choice of tyres a real lottery."
The Brose Rallye Team drew lots of rivets in this case. On Saturday morning, the rain tyres proved to be a mistake when the road surface was around 80 percent dry. A puncture caused the Brose Rallye Team to briefly drift off the road. From special stage four onwards, a stubborn pop-off valve crept in, which repeatedly minimised the engine power of their Skoda Fabia Rally2 Evo when accelerating. In the lunch service the mechanic crew of Romo Motorsporttechnik could fix this problem, but new ones appear. In the beginning the intercom system fails, which put an enormous strain on the vocal cords of co-driver Ursula Mayrhofer (36/Austria). In addition, increasingly strong vibrations appeared. At times, the Brose Skoda was shaken so violently that the crew's vision was impaired.
The setup was changed during Saturday evening service. This had an effect, the time gap to the front-runners became smaller on Sundays. On the circuit through the city of Nyiregyháza Dominik Dinkel shone with the fifth best time. At this point he had already coped with the new puncture he had suffered shortly before. He sees 12th place in the overall standings and 6th place in the junior classification as damage limitation.
"But we didn't reach the targets we had set ourselves. Why everything that worked so perfectly in Portugal didn't work so well in Hungary, we now have to analyse together calmly. That naturally includes me as a driver. I don't want the problems described above to be used as an excuse. Neither the lack of experience in Hungary nor the fact that I haven't driven such a slippery asphalt rally for a long time. I have neither managed to build up the necessary confidence in the car nor to call up my speed. On the tricky special stages I simply acted too cautiously"
Dominik Dinkel looks back completely open-minded. But he also sees a positive aspect of the Hungarian race: "We were able to gather important data and experience. Our eyes are now clearly focused on the next competition. That is the Rally Islas Canarias (26 to 28.11.2020). There we want to present ourselves really strong again!"