Bamberg
Euroleague: Brose Bamberg sends Maccabi packing by 90:75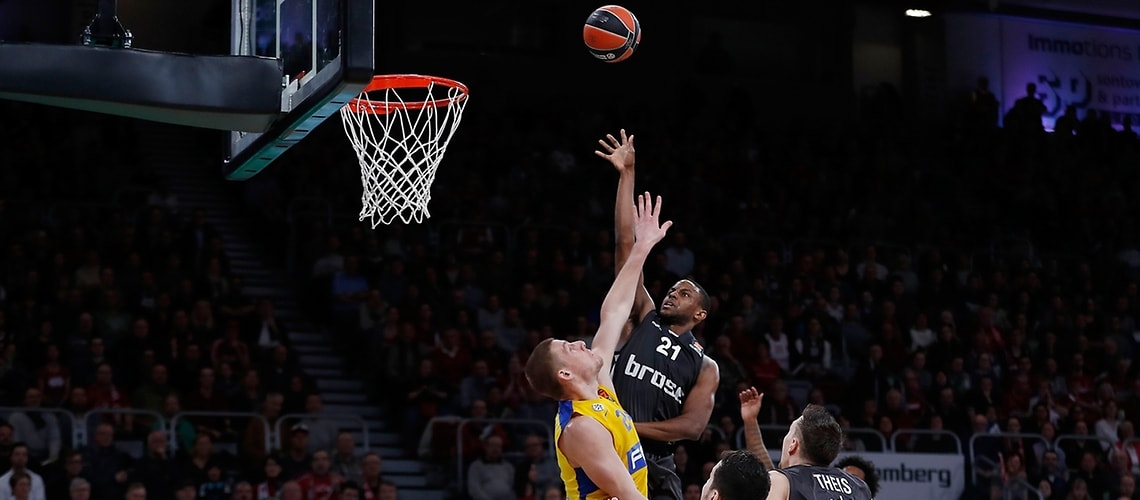 Bamberg, 02-02-2017
Brose Bamberg has finally ended its string of defeats in the Euroleague. After four losses, three of them against the top three clubs in the table, the team of Head Coach Andrea Trinchieri got back to winning ways and dispatched Maccabi Tel Aviv by the margin of 90:75. Since Darussafaka Istanbul suffered a surprise defeat in Milan, the gap separating Bamberg from eighth spot (and a place in the playoffs) is now just two wins.
Brose Bamberg got off to a good start: Nicolo Melli and Fabien Causeur put their side 5:0 in front, then Radosevic, Miller and Zisis made it 12:7. The 2014 Euroleague champions, who just two days earlier had fired their second-best scorer Sonny Weems because he refused to undergo a doping control, were not perturbed: Maccabi produced a run of seven points without reply to go 14:12 ahead, a lead it extended to 21:16 by the end of the first period. The home side was rarely effective in keeping the Israeli club away from its basket in the second quarter and so trailed 34:42 after 18 minutes. Thanks to Maodo Lo (13 points), who drained three out of his four shots from downtown and two free throws, Bamberg was able to reduce the deficit to 41:43 by half-time.
Bamberg finally showed greater fight in defense after the break. Janis Strelnieks gave his side its first lead since the seventh minute by adding five straight points (48:47). Daniel Theis (10 points) made a strong slam-dunk after a pass by Strelnieks (54:51), by which time the fans were no longer able to remain seated. Maccabi cut the gap to 54:53, but Miller, Lo and Theis struck back with lay-ups. The Latvian Strelnieks then drained his shots on the next three attacks to give Bamberg a 66:53 lead after a period it won by 25:10. Top scorer Strelnieks (25 points) added two more threes to put the home side 72:56 in front. Yet Maccabi did not give up and slashed the deficit to 76:70 with four minutes left. Then Darius Miller (17 points) relieved the pressure with a half-distance shot after Maccabi's run, while Strelnieks, who made all of his ten shots, buried his fifth bucket from outside. Daniel Theis sealed the encounter with a spectacular slam-dunk with two minutes to go (85:70).
Andrea Trinchieri commented: "We had a checkered first half. We were too soft in offense and defense and only committed two fouls in the first period. That was no way to stop Maccabi. The most important thing for me is that we've taken a step to becoming a mature team. Mature teams play these games with patience. Mature teams know the opposing side has nothing to lose. The others make their shots and we mustn't let that make us frustrated. Mature teams play, fight, grind away and, when the moment comes, they make a run and win. And that's exactly what my players did. I'm very happy about how we played with our other face in the second half."
Brose Bamberg await local rivals s.Oliver Würzburg for a Franconian derby in the Brose Arena on Sunday, February 5, 2017. The tip-off against the team of Head Coach Dirk Bauermann is at 6 p.m.