Erlangen
HC Erlangen ends successful season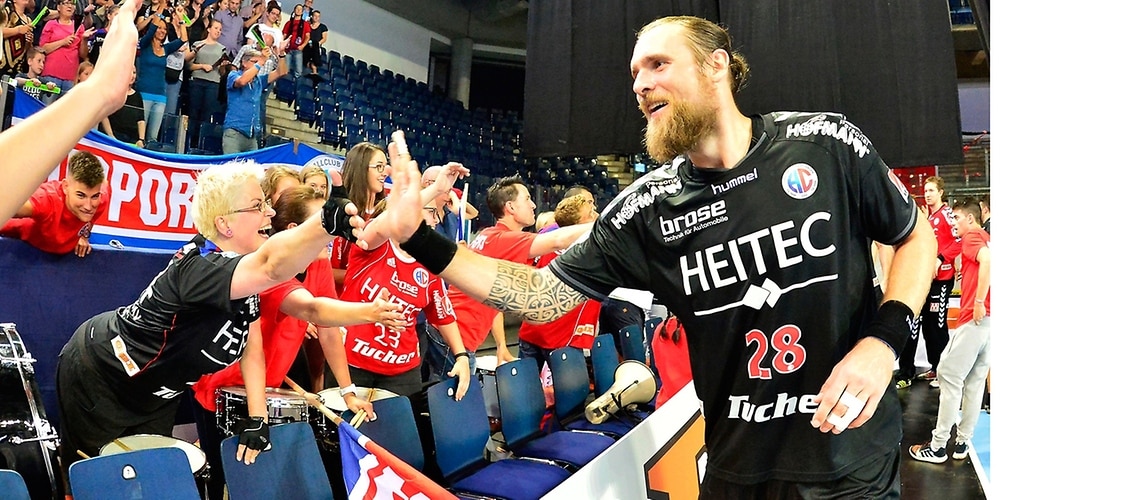 Erlangen, 05-28-2016
Well in excess of 3,300 spectators again flocked to the Nürnberger Versicherung Arena and, after the teams had run out, said their goodbyes to the players who would no longer appear for the club from Central Franconia next season in the German first division. The crowd got to its feet several times as Denni Djozic, Oliver Heß, Christoph Nienhaus, Sebastian Preiß, Tobias Rivesjö and Jan Stochl were bid farewell by Dr. Carsten Bissel, Chairman of the Supervisory Board, and Manager Stefan Adam.
The team of Head Coach Robert Andersson got off to a good start in its final home game of the season against EHV Aue. The home side quickly equalized an early lead by the opposing side from Saxony and no longer relinquished the lead until shortly before the half-time buzzer. The visitors from the Erzgebirge region tied the scores three minutes before the break and opened up an 11:13 gap by half-time.
The visitors also got off to the better start after the break. It took six minutes for the second-division champions to get off the mark in the second half through Denni Djozic. With a quarter of an hour remaining, HC Erlangen was able to close the deficit to one. The EHV responded to this spell of pressure with three goals in a row. Aue ran out deserved winners in Nuremberg, which did not dent the joy at the team's sensational and highly commanding performance in the season.
After a lap of honor, on which they thanked what are perhaps the best fans in the league, the players of the second-division champs left the arena, but then returned a little later to their "own backyard." First of all, Head Coach Robert Andersson received the award as "Best Second-division Coach" from the President of the Handball League Uwe Schwenker and its Managing Director Frank Bohmann to the applause of his players and the more than 3,000 fans. A little later, the HCE's captain Pavel Horák lifted the second-division championship trophy aloft.
Robert Andersson commented: "Up to now, we've done very well in what's been a long and very intense season. We also had to give our all in today's game. I'm proud that we've achieved our objectives and can celebrate this truly great handball party with our fans."