Wuppertal
HC ERLANGEN LOSES AT BERGISCHER BC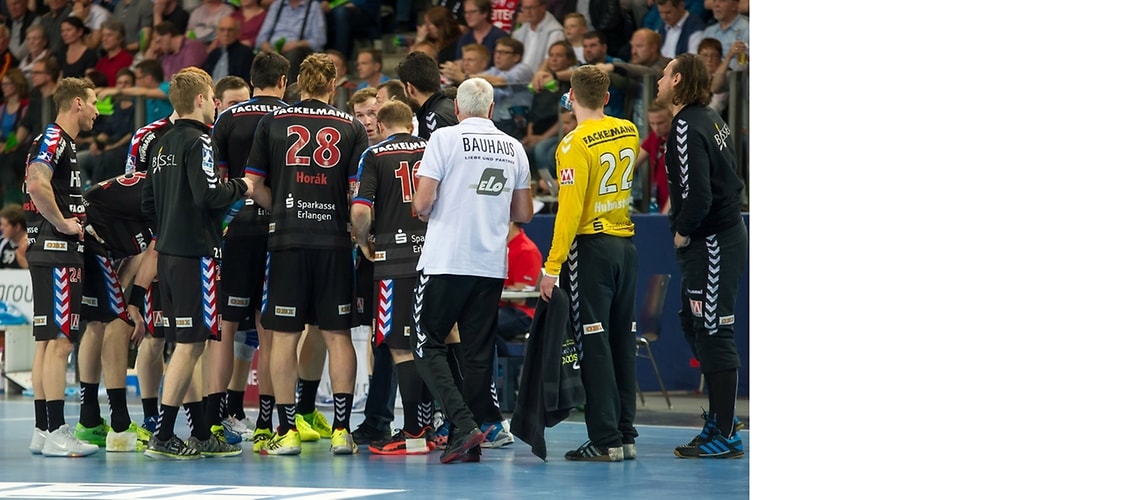 Wuppertal, 04-15-2017
HC Erlangen lost its game on the road against Bergischer HC. The team of Head Coach Robert Andersson was defeated 28:26 (13:15) by the Bergische Lions and is now ninth in the DKB German Handball League.
At the University Hall in Wuppertal, HC Erlangen picked up where it left off in the clear win against TBV Lemgo two weeks ago. As forecast by Robert Andersson, the first division club from Franconia came up against offensive 6:0 covering, which the HC repeatedly kept on the go as a result of clever shifts in play and so was able to get its strong one-on-one players into good positions in the opening spell. The tussle was evenly poised up to the 15th minute. HC Erlangen was always able to hold on to its lead and stretched the gap to five goals within a short space of time. That was down to a strong performance by Nikolas Katsigiannis in goal and the fact that the HC took its chances to score well. To the annoyance of the more than 50 away fans who had made the journey, the visitors were not able to take this lead in with them at half-time. Two goals conceded in the final minute and a time penalty changed the situation hugely.
The Bergische HC continued that run after the break, equalizing after a few minutes and so triggering a feeling of euphoria in the well-filled University Hall that had been lacking in the first half. HC Erlangen kept the game tight, but failed to put its stamp on the game again by missing its chances. The team of captain Nikolai Link repeatedly had opportunities to equalize, but did not capitalize on them. As a result, the home side from the Bergisches Land region ran out winners by 28:26 and so moved out of the relegation zone in the DKB German Handball League for the first time in quite a while.
HC Erlangen aims to pick up two points again this Sunday, when the reigning EHF Cup champions FRISCH AUF Göppingen visit the Nürnberger Versicherung Arena (throw-off: 5:15 p.m.).
Robert Andersson commented: "We started very well and really had everything under control when we led by four goals before half-time. Then we missed a number of good chances and enabled BHC to grow stronger again."