Berlin
HC Erlangen loses to Berlin Foxes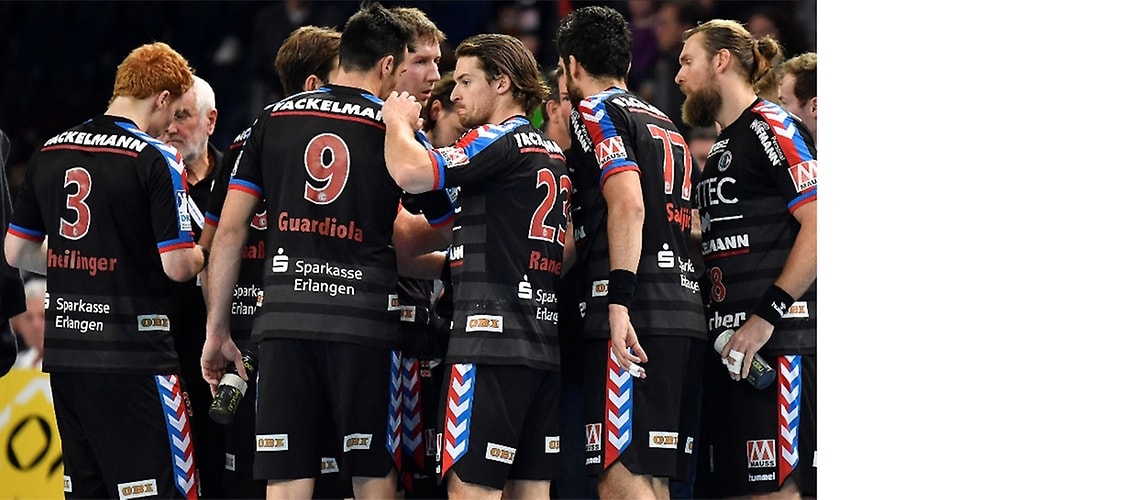 Berlin, 10-23-2016
HC Erlangen lost its game on the road against Berlin Foxes 21:24 (10:13) despite a strong performance. The team of Head Coach Robert Andersson thus showed the right response to the home defeat against Wetzlar and can now prepare for the upcoming week of tough encounters against the top-class teams Rhine-Neckar Lions and THW Kiel.
It was clear before the team led by captain Michael Haaß entered the Max Schmeling Arena that the first-division club from Franconia has resolved to put up a hard fight in the duel against the Super Globe winners. Erlangen was highly focused in its preparations for a game against one of the league's top five teams in front of more than 8,500 spectators. And it was also focused at the beginning of the game, with highly alert and extremely agile defense that proved a hard nut to crack for Berlin. In offense, HCE snapped up its chances after thoughtfully played-out attacks. As a result, the league newcomers and the winners of the 2014 DHB Cup were tied 5:5 after 15 minutes. After that, Berlin was able to get a better handle on the visitors' attacks and open up a slight gap by the break.
The home side got off to the better start to the second half. Fired on by their fans, the Foxes extended their lead to six goals and looked like certain winners after 40 minutes. However, composure, thoughtful play in attack and a Ole Rahmel, Erlangen's top scorer again with right goals, got the visitors back into contention. At the death, Berlin had to thank its goalkeeper Petr Stochl for keeping the HCE at bay with a strong performance.
HC Erlangen's players can now prepare for a week of games with top-flight opponents with a lot of confidence and their heads held high. Rhine-Neckar Lions, the reigning German champions, visit the Nürnberger Versicherung Arena for a encounter in the last sixteen of the DHB Cup on Thursday. Just two days later it is the turn of Kiel, the holder of a record number of German championship titles.