Ludwigsburg
Heroes Of Tomorrow lose to MHP RIESEN Ludwigsburg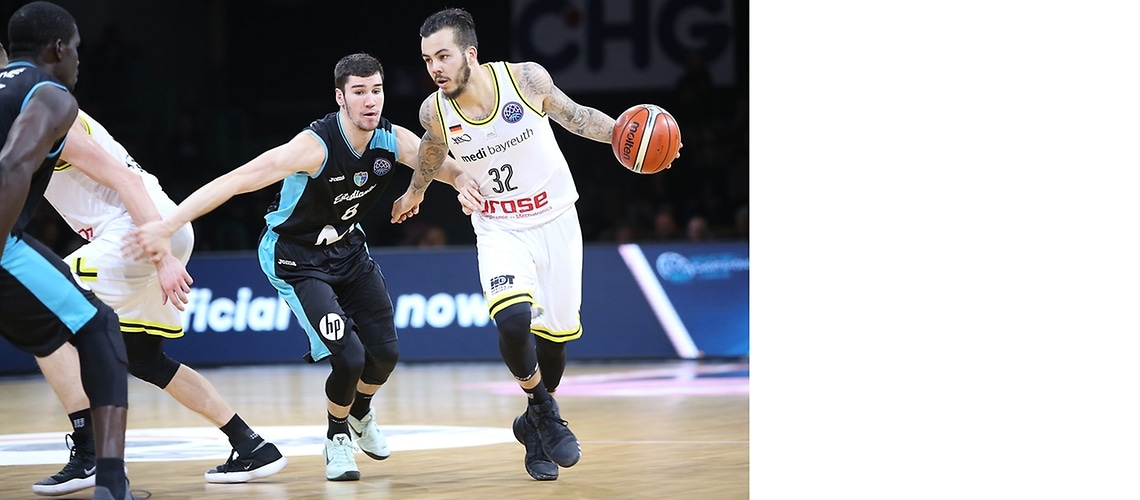 Ludwigsburg, 12-16-2017
After an evenly poised beginning, Bayreuth conceded two turnovers, enabling MHP RIESEN to soon stride into a clear lead for the first time. One minute later, the gap was extended to double digits for the first time after the Heroes Of Tomorrow lost possession again and Justin Sears made it 15:5. medi bayreuth had difficulties with the other side's tough man-to-man defense and how Ludwigsburg repeatedly snapped up offensive rebounds to score at the second opportunity. A bucket from beyond the arc by Dwayne Evans put the home side 23:11 ahead at the end of the first period.
After conceding further quick points, the Heroes Of Tomorrow switched to zone defense. Bayreuth's now more physical play initially caused problems for MHP RIESEN. Unfortunately, however, medi did not manage to score points itself after halting its opponents' attacks. When Johannes Thiemann made it 34:16 in the 18th minute, Assem struck back in one of Bayreuth's best spells with six straight points, but his side still trailed by the clear margin of 22:35 at half-time.
Ludwigsburg also got off to the better start after the break. In the 24th minute, a clear bucket by De'Mon Brooks was disallowed; instead, a technical foul was awarded against Adika Peter-McNeilly, meaning Bayreuth's power forward was only able to make it 26:41 from the foul line. Three minutes later, Nate Linhart cut the deficit to 31:44 with a three, but Johannes Thiemann hit back immediately with a bucket from downtown. Nine points in succession from Dwayne Evans made it 33:56 after the third period.
The game was already decided before the start of the final quarter. Even though Ludwigsburg had reached the team foul limit after barely four minutes, the Heroes Of Tomorrow were not able to capitalize on that to any great extent. The referees permitted a great deal of contact on both sides throughout the encounter. Ludwigsburg's strong accuracy from outside continued in the third period. With five minutes remaining, the home side pulled away by 65:35 after a three from Florian Koch and was able to play out the game comfortably.