Radom
Heroes Of Tomorrow start Champions League campaign with an away win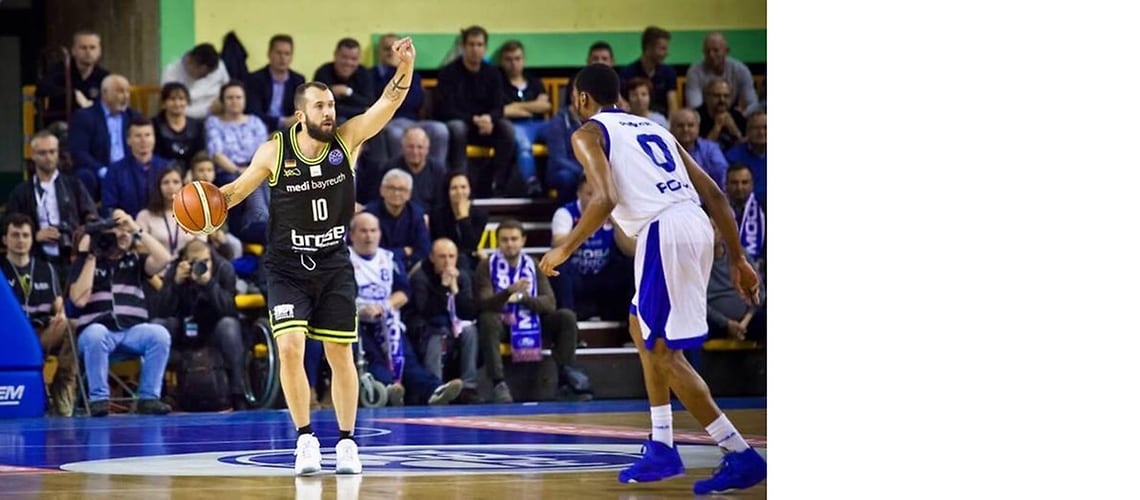 Radom, 10-10-2017
medi bayreuth has embarked on the new season in the Basketball Champions League with a win on the road. The team of Head Coach Raoul Korner defeated Rosa Radom by 96:79 on Tuesday evening.
However, things looked anything but rosy for medi bayreuth to begin with in front of exactly 807 spectators. The Polish club dominated the first period and led by 17 points at one stage. Yet the Heroes Of Tomorrow again showed their character and fought their way back into the encounter. Spurred on by a magnificent Andreas Seiferth, they reduced the deficit to four points by the break. The whole team suddenly switched into top gear in the club's Champions League premiere and pulled away point by point. The upshot was a deserved away win thanks to another strong team performance, as evidenced not least by the total of 23 assists.
However, a win in Poland did not look on the cards in the first ten minutes. The team of Head Coach Raoul Korner got off to a nervous start, conceded a lot of turnovers and did not get into the game in the opening minutes. Rosa Radom took a quick 5:0 lead, which it extended to 14:5, forcing medi to call its first timeout. However, the home side was not perturbed and controlled the boards. Patrik Auda made the difference in this department with five rebounds alone and Radom also notched up a high 3-point field goal percentage.
The second period began with a bucket from downtown by Steve Wachalski and a run of seven points without reply by the Heroes Of Tomorrow. Radom now had to defend more toughly and had already conceded four team fouls after just four minutes. It was Andreas Seiferth in particular who used the space that his side now created to score a string of easy points. The gap dwindled to 32:37. Assem Marei was able to cut it further to 43:47 on the half-time buzzer.
medi also dominated the second half to begin with and managed to move ahead for the first time in the game thanks to two fast threes by Wachalski (47:49). The subsequent 17:2 run gave it a comfortable 49:60 cushion. The visitors' defense was now far more solid and they also led in the rebounding statistics by 24:22 after 16 minutes. It was not until the 29th minute that Radom's top scorer, Kevin Punter, added his first points after the break.
medi bayreuth now displayed great team basketball, made hardly any mistakes and kept the home side securely at an arm's length. The ball repeatedly found its way into the basket via the big men – De'Mon Brooks, Assem Marei and above all Andreas Seiferth, who was outstanding from the field and did not miss a shot, kept on breaking down Radom's defense.
Raoul Korner commented: "That was an important victory for us. But the way we started was terrible. We trailed by 17 points and could hardly defend. We were sloppy in offense. It therefore took some time before we were in the game. When we all thought that we were playing below our potential, it was then important for the team to stick together. We battled our way back into the game point by point. We broke Radom's confidence with our physical play and a number of stops. We then dominated the game in the last three quarters. A big compliment to my players, who believed in themselves and have taken a stride forward."