Ulm
Heroes Of Tomorrow win against ratiopharm ulm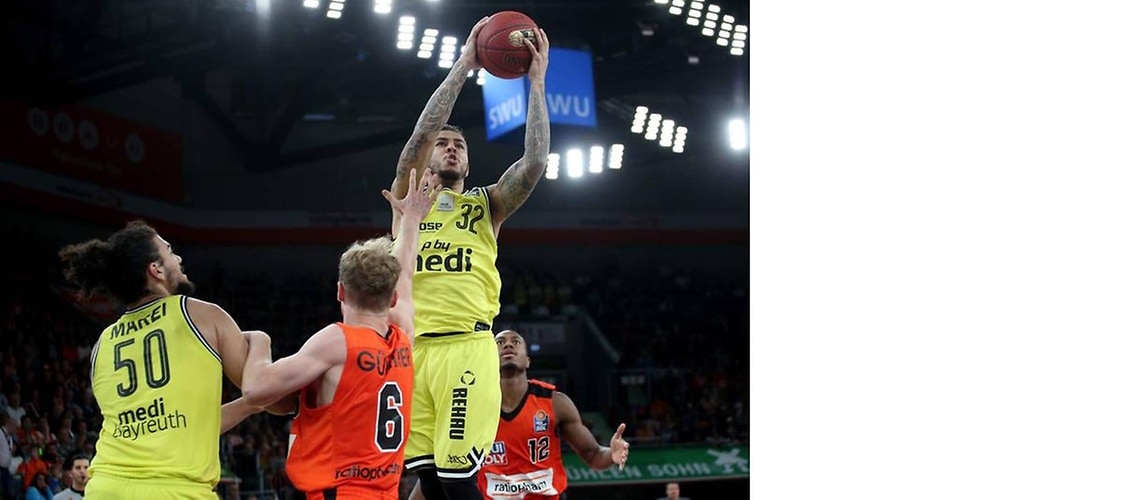 Ulm, 10-07-2017
medi bayreuth remains unbeaten after the 3rd matchday in the easyCredit German Basketball League thanks to a very strong team performance. The side of Head Coach Raoul Korner won at ratiopharm ulm by 84:74 on Saturday evening to capture its third victory of the season.
A fast-paced, evenly poised and also good game ensued from the tip-off in the sold-out ratiopharm arena. Whereas medi bayreuth mainly focused on its inside game, above all through Assem Marei, who turned in yet another magnificent performance, Ulm chalked up a high percentage of shots from outside. Subsequently, the Heroes Of Tomorrow increasingly tried to finish their attacks by taking quick shots, which did not always hit their mark. The home side exploited this spell to take the lead for the first time (20:19). Ulm channeled many of its moves through Luke Harangody, but he was not able to prevent the Heroes Of Tomorrow leading by 23:22 after the first period.
The level of intensity from both sides remained high. However, Ulm got into its stride more and more in the second period and was able to open up a 30:24 gap, among other things due to an unsporting foul by Steve Wachalski. medi took the lead back when Bastian Doreth drained what was by that time Bayreuth's 13th three (33:32). Ulm then snatched it back, only for Gabe York to drain a spectacular shot from downtown to make it 41:41 milliseconds before the half-time buzzer.
Ulm's rebounding improved after the break and so it managed to move 51:48 ahead after an impressive opening spell. Bayreuth's 3-point field goal percentage improved and it was again Bastian Doreth who gave it back the lead. Luke Harangody and Assem Marei now produced a thrilling duel below the baskets. The Egyptian player secured his double-double as early as the 28th minute. He now spurred his team irresistibly forward and, after an alley-oop by De'Mon Brooks, medi pulled away to 57:51 with a run of ten points without reply. Ulm reduced the deficit with further buckets from downtown, but it was the visitors who led by 62:57 at the end of the period.
In the final quarter Trey Lewis, who played for Bayreuth last season, tried to turn the game around single-handedly, but was deserted by luck in his finishing. Instead, Isaac Fotu went from strength to strength and got his team back in the encounter. Just as Ulm was on the verge of equalizing, a clinical three by York rocked the home side back on its heels and made it 69:65 for the Heroes Of Tomorrow. When both sides exceeded the team foul limit midway through the period, it was medi's James Robinson who stepped into the limelight. He scored all his four free throws from the foul line and now also drained his shots. After he buried a three to make it 76:70, it was Nate Linhart who sealed the game. His bucket from beyond the arc, with 96 seconds left on the clock, made it 79:70 and decided the tussle.
Raoul Korner commented: "It was a fight and so exactly what we expected. We knew Ulm didn't want to start the season with three defeats and so it got off to a determined start. We wanted to defend better against shots from outside, but we didn't manage to do that for long stretches. It was then the team that's been together more often in such situations that won in the end."