Hockenheim
Intense and successful end to the season for Christian Engelhart in the ADAC GT Masters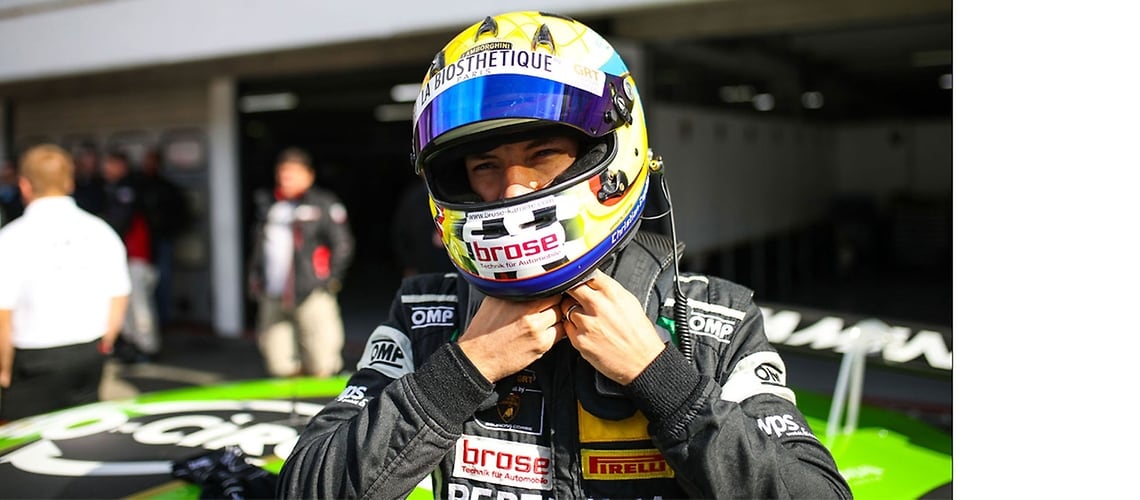 Hockenheim, 10-02-2016
Christian Engelhart was once again able to give another demonstration of his abilities in one of the strongest GT series in Europe by finishing fourth with Rolf Ineichen in the finale of the ADAC GT Masters in Hockenheim. The duo narrowly missed out on a place on the rostrum. They produced a powerful performance in the Lamborghini Huracan GT3 of the Grasser Racing Team and ended the season in seventh in the drivers' championship.
The finale was a real thriller again: With an impressive first half to the race, the green Lamborghini Huracan moved up to second place in the Sunday race and was able to hold on to that spot until shortly after the restart. It was only in the final spell of the race that Rolf and Christian were overtaken by two rivals and they finally crossed the line in fourth.
"The result is still a positive one for us. Of course, we'd have liked to get a place on the rostrum to end the season, but 4th is also a good result in this fiercely contested championship. We should always remember that we entered the new season with a completely new setup – with GRT and with us as pilots."
A place on the rostrum was a possibility in the wet conditions in the Saturday race. Although a drive-through penalty cost important seconds, the duo staged a brilliant effort to catch up, managing to finish ninth and so get among the championship points.
"Of course, a penalty is always annoying. After we crossed the finishing line, it was obvious that it caused us to lose the crucial time we needed to be able to contend for a place on the rostrum. You can see that clearly if you deduct the 30 seconds."
After fourteen races on seven different top European tracks, the overall verdict on the season is a positive one. With the opening victory in Oschersleben, another place on the rostrum on the Sachsenring, a total of nine top 10 placements and ten victories in the Trophy rankings, in which Rolf finished as runner-up, the duo came seventh in the ADAC GT Masters with a total haul of 91 points.
"Before the season started, we didn't expect we'd be able to be in with a chance of winning races this year, let alone actually win one. Our express and deep thanks also go to entire GRT team for making such strong results possible. It was an intense and very good working relationship throughout the year and has helped us all make a big stride forward," is how Christian sums up the strong season. "We'd therefore also like to thank all partners and sponsors very warmly for their support."