Bayreuth
medi bayreuth chalks up its 14th win of the season against tail-enders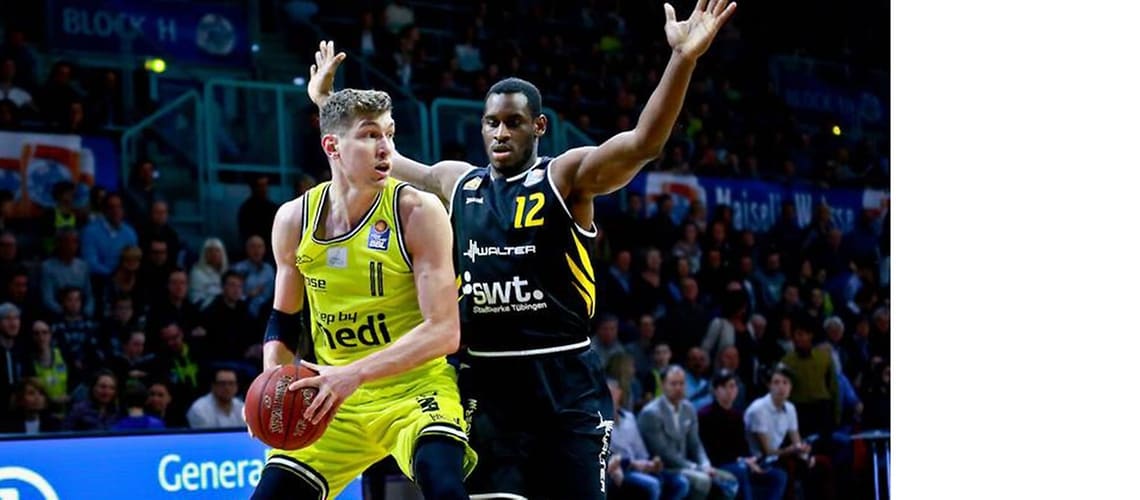 Bayreuth, 02-11-2018
medi bayreuth won its game on the 21st matchday of the easyCredit Basketball Bundesliga with a solid performance across the board. The team of Head Coach Raoul Korner ended up strolling to a comfortable 85:71 (44:36) victory against bottom-of-the-table WALTER Tigers Tübingen to post its 14th win of the season and hold on to fourth place.
3,079 spectators in the Oberfrankenhalle saw an evenly poised encounter to begin with in the first period. However, the Heroes Of Tomorrow were then able to open up a slight gap in the second quarter and also did not surrender that lead in the remainder of the encounter. Although Tübingen always kept in range throughout the game, Bastian Doreth and his team repeatedly stepped up the pace when the gap became a little smaller. It was only in the final minutes that they managed to increase their lead. As a result, the Heroes Of Tomorrow notched up a deserved and comfortable victory and so have got off to a successful start to a week packed with important games before the break for the internationals.
Both teams started at a high pace and an evenly balanced, entertaining first period ensued. Whereas the visitors were often successful from beyond the arc, medi bayreuth focused on its inside game. As a result, Andreas Seiferth dominated to begin with, before Assem Marei took over from him seamlessly. It was also the Egyptian player who made it 16:14 after a beautiful combination involving Bastian Doreth and Robin Amaize. medi led 19:18 after the first period.
The first half of the second quarter again testified to the truth of the adage that basketball is a game of runs. The Heroes Of Tomorrow first produced a run of ten points without reply to move 31:21 in front in the 13th minute. However, the visitors struck back with one of their own, cutting the deficit to 32:33 in the space of two minutes, mainly thanks to threes by Malcolm Lee, Jared Jordan and Reggie Upshaw. Yet medi bayreuth hit back again before the break. An 11:4 run put Raoul Korner's team eight points ahead again.
The encounter was scrappy after the break and it was two-and-a-half minutes before Reggie Upshaw put the first points on the board, naturally with a shot from downtown. Just when Tübingen had got back within striking distance, buckets by James Robinson and Robin Amaize gave their side a little breathing space at the right time. A thunderous slam-dunk by Brooks to make it 52:43 in the 27th minute was the visual highlight of the third period, which ended up tied.
A three by captain Bastian Doreth in the 33rd minute gave Bayreuth its first lead of more than ten points. John Cox came off the bench to enrich and inspire his side's play with good ideas and gave medi its highest lead of the encounter from the foul line (68:54). With four minutes to go, Jared Jordan reduced the deficit to nine points (66:75), but then Raoul Korner called a timeout, after which a three by De'Mon Brooks to make it 80:66 in the 38th minute sealed victory.
Raoul Korner commented: "Thank you for the congratulations. All in all, I'm not unhappy about today's game. We controlled it for long spells, even though we never dominated it. We always eradicated our weak phases every well – especially when we threw possession away and Tübingen was on a roll in transition as a result of its early threes. We knew we had a height advantage under the basket and we exploited that deliberately. I think we did so in a disciplined way over large stretches. As a result, we were ultimately able to play with ten men and with a good distribution of their time on court; there was no drop in our level of performance. On the contrary: I think the players who came off the bench gave us a push and increased our discipline when it came to moving the ball inside so that we could score. So it was a solid and important win against a very dangerous Tübingen side."
medi bayreuth now faces its next home game when it welcomes Telekom Baskets Bonn, the club in immediate pursuit of it, to the Oberfrankenhalle on Wednesday, February 14 (tip-off: 7 p.m.).