Giessen
BBC Coburg loses at Giessen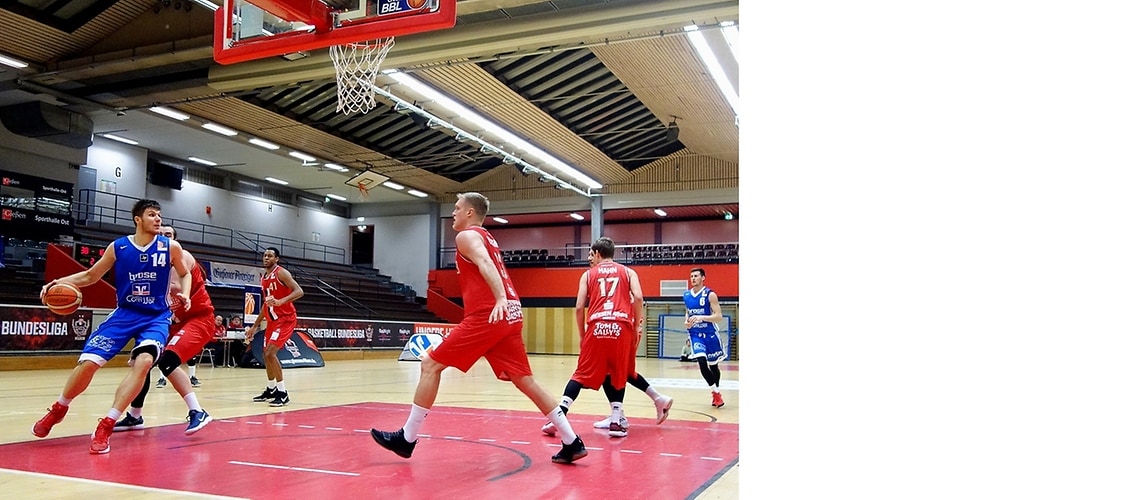 Giessen, 02-10-2018
BBC COBURG went down 95:84 to Gießen 46ers Rackelos and so suffered its ninth defeat in its tenth game on the road. Despite strong spells, the team's overall performance was not enough to beat the seven fiercely fighting players from the opposing side.
Too little, too late – and that was true of BBC COBURG's display at the now third-placed club from Central Hesse. After an evenly balanced start, Coburg – who was missing Matthias Fichtner and Kevin Eichelsdörfer – soon slipped behind against the venomous home side, who was able to call on just seven players. The experienced former international Johannes Lischka, top scorer for the home side with a total of 24 points, added seven points in succession to put his side 19:11 ahead at the end of the first period.
The visitors were also mystifyingly drowsy to begin with in the second quarter and only rarely managed to put Bjarne Kraushaar, the 46ers' only regular point guard, under pressure, although he committed three personal fouls early on. Not much clicked in offense, either: The league newcomers put a meager 16 points on the board in the first 15 minutes. Yet when Jordan Burris stole possession and made a slam-dunk, Coburg – who are next-to-bottom of the table – woke up. Eividas Molosciakas added a lay-up plus a bonus free throw, then Steffen Walde stole the ball and Anell Alexis made a tip-in to cut the deficit to 46:34 at the break.
When Burris scored again with a floater to make it 46:36, hope was rekindled again among the Coburg fans who has made the journey, yet Gießen hit back strongly every time, despite its shortage of players. In particular its "veterans" Lischka and Marian Schick (19 points, 13 rebounds, 6 assists) outplayed their opposing numbers in the zone at will and were far more clinical than the visitors, who also weakened themselves with unnecessary slips, such as a technical foul against center Daniel Stawowski.
Nevertheless, BBC COBURG stayed in contention for a long time. Seven straight points by U.S. guard Byron Sanford, who unfortunately ran into form too late, and four points by Yasin Turan reduced the gap to a tolerable eleven points. However, the Rackelos did not show any nervousness and commandingly sealed their home win, not least from the foul line thanks to the princely number of 32 free throws blown in their favor – whereas Coburg was just awarded 12, in spite of Gießen's physical play.