Valencia
Brose Bamberg loses in Valencia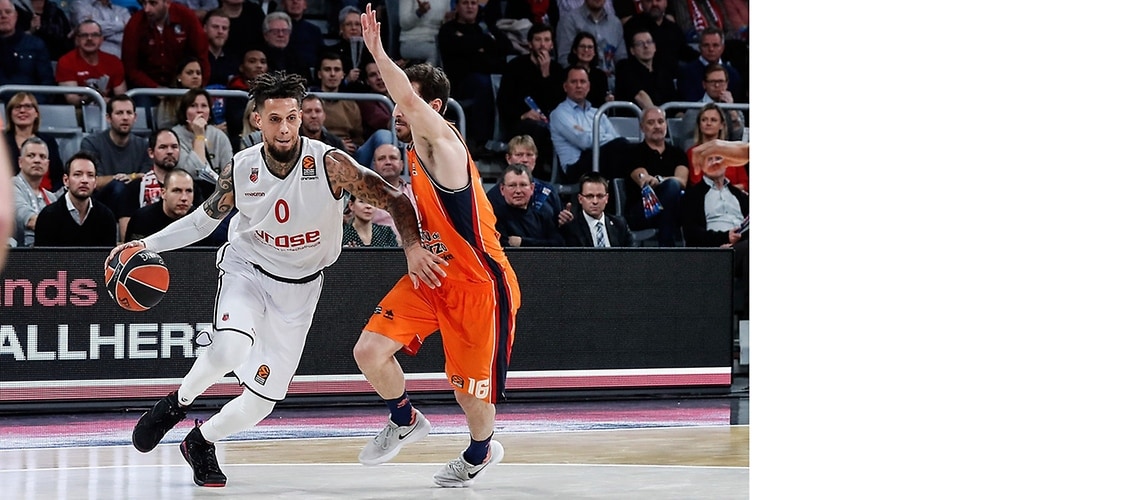 Valencia, 03-01-2018
The jinx has still not been broken: German champions Brose Bamberg have not been able to win on the road since November 4, 2017 – almost four months. The team of Head Coach Ilias Kantzouris lost in the Euroleague at Valencia Basket yesterday evening by 70:86. The Spanish champions have thus overtaken Bamberg, who is now 13th, in the table.
The 200 Bamberg fans who made the journey to Valencia saw a first period in which Kantzouris' players were caught napping. Bamberg conceded two turnovers and missed three shots in the first 150 seconds, enabling Valencia to surge 8:0 in front. The visitors were much too slipshod, especially in building plays, and Valenica capitalized on five more steals by the end of the quarter to pull further away. Brose Bamberg managed just four buckets out of twelve attempts from the floor, with the result that it trailed 11:28 after the first quarter. Daniel Hackett's bucket from beyond the arc at the start of the second period was the rallying call for the club from Upper Franconia. The visitors suddenly threw all they had into the fray, forced the home side to take tough shots in the face of more vigorous defending, and so carved out many good shooting opportunities and won many free throws. Top scorer Dejan Musli (14 points) and Nikos Zisis with four of his six points reduced Bamberg's deficit to 34:37 at half-time.
And Bamberg even took the lead for the first time after the break: A three by Dorell Wright and a lay-up plus a bonus free throw from Augustine Rubit put the visitors 42:39 ahead. Yet the momentum tilted back Valencia's way as if by magic. The home side turned the game around with two successive buckets from downtown and caused Bamberg problems in offense up to the end of the quarter with its greater tenacity in defense. With the score at 54:60 going into the final period, Valencia produced an 11:2 run to as good as seal victory with the score at 56:71 midway through the quarter. One ray of sunshine: Bamberg's Luka Mitrovic had a brief spell on court after being out through injury for three months.
Brose Bamberg must definitely end its four-month weakness on the road on Sunday, March 4, against Gießen 46ers, eleventh in the table and tied on points with Kantzouris' team in the German league. Bamberg has to win the game, which tips off at 5:30 p.m., to draw level with the other teams in a playoff berth.