Gummersbach
HC Erlangen wins commandingly in Gummersbach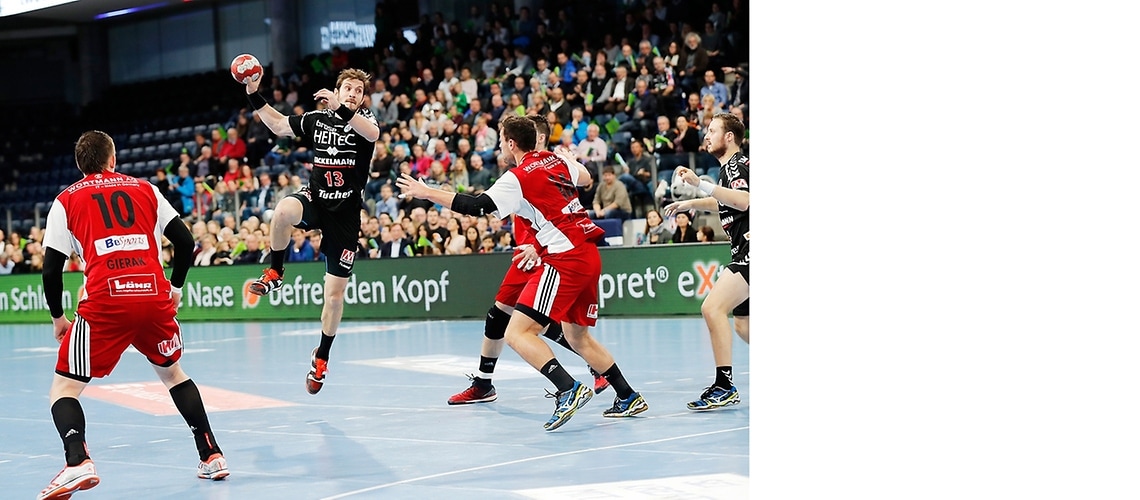 Gummersbach, 03-04-2018
HC Erlangen won its game on the road at VfL Gummersbach on Sunday afternoon in very convincing fashion. The first-division club from Franconia defeated its opponents, a club with a long and rich tradition, by the clear margin of 29:24 (12:7) to move closer to a mid-table berth in the DKB German Handball League.
Going into the encounter with VfL Gummersbach, Head Coach Aðalsteinn Eyjólfsson spoke of just how hugely important the game was against the club just below it in the table. His team took this game just as seriously and began with an energy that completely disconcerted the home side. The defense around the inner block of Link and Schröder was incredibly efficient and so repeatedly set up good opportunities for the HC's fast wingers to score. Gummersbach's offense was thwarted by a string of saves by Gorazd Skof, who started the game between the posts. As a result, the first-division club from Franconia was able to open up a large gap early on. Led by a strong Nico Büdel directing his side commandingly, the HC always kept the opposing team at arm's length and finished its moves very clinically in offense – with the result that the VfL called its second timeout after just 24 minutes. The visitors, who were fired on frenetically by more than 100 fans who had made the journey to the sold-out Schwalbe Arena, stretched their lead by half-time.
Both offensive ranks traded blows after the break. Neither Karsten Lichtlein in Gummersbach's goal nor Gorazd Skof were able to stop a shot in the first ten minutes of the second half. Within a very short spell, Gummersbach cut the deficit to three goals, but then HC Erlangen showed that it has grown in stature in the past weeks. The players on court and the entire bank exuded a body language that made it clear to the home side that there would only be one winner in the encounter. With strong work in getting back to defend, the visitors – led by Christoph Steinert with another strong performance – extinguished the small flame of hope the home side tried to kindle. HC Erlangen pulled away again, the Schwalbe Arena grasped that the winner on the day would not be the home side, and it was ultimately the red-shirted Erlangen players and their fans who celebrated a highly deserved victory in Gummersbach.
Aðalsteinn Eyjólfsson commented: "I'm very, very satisfied today at how my team played. It stuck precisely to our game plan and was successful with it."
HC Erlangen can take another important stride forward at home in the Nürnberger Versicherung Arena, again on a Saturday, when the team of Aðalsteinn Eyjólfsson welcomes TVB Stuttgart to the Noris at prime time (8:30 p.m.).