Lübbecke
HC Erlangen captures important point in Lübbecke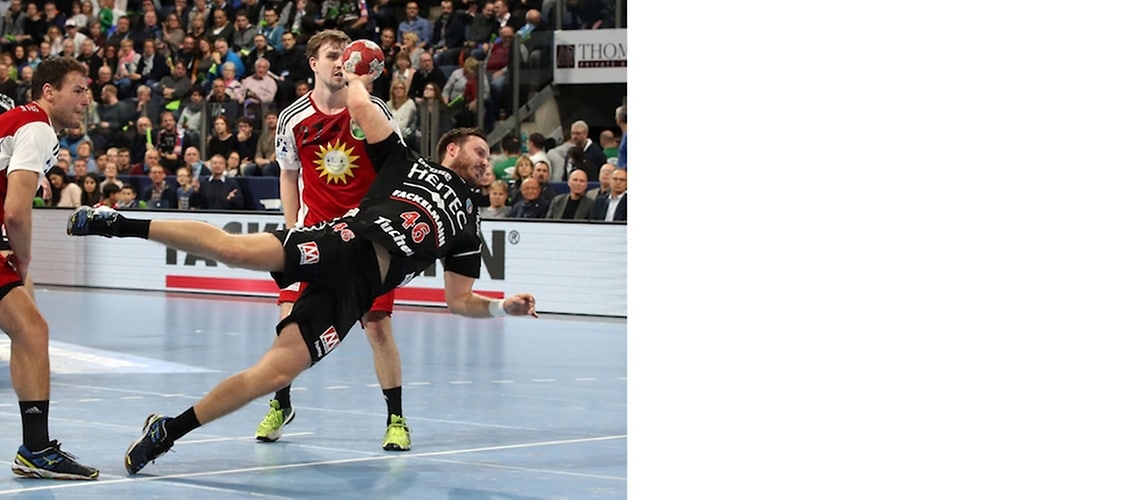 Lübbecke, 04-01-2018
HC Erlangen gained an important point as a reward for its great fight and morale on the road at TuS N-Lübbecke on Easter Sunday. The team of Head Coach Aðalsteinn Eyjólfsson drew 27:27 with its opponents from Eastern Westphalia to consolidate its grip on a mid-table berth in the DKB German Handball League.
The persons in charge at TuS N-Lübbecke had declared the tussle against HC Erlangen to be a "must-win game" going into the encounter. HC Erlangen, who traveled to Northwestern Germany with a number of players missing, was able to fall back on its players' team spirit. Andreas Schröder and Nico Büdel played unselfishly for their team and gritted their teeth. The first-division side from Central Franconia got off to a very good start. HC Erlangen's agile 5-1 defense stood solid and its attack exploited its chances uncompromisingly at the beginning. Led by Christoph Steinert, who was once again his team's top scorer with eight goals, the HC always had the right response to what the home side threw at it in the opening quarter of an hour. TuS N-Lübbecke got into the game far better after the 15th minute. In particular Dener Jaanimaa in the right backcourt caused Erlangen increasing problems. After that, the TuS almost always led by one goal, as both teams went in at half-time in the Merkur-Arena deservedly tied at 14:14.
Lübbecke got off to the much better start after the break. HC Erlangen had trouble getting a grip on its opponents in defense and the interplay between its defensive ranks and goalkeeping duo was only partially effective in this spell. The internationally very experienced team from Lübbecke exploited that clinically to surge 20:24 ahead. It was then that HC Erlangen, which had suffered a incredibly large number of setbacks in the past weeks, showed its true team spirit. Players like Michael Haaß and Johannes Sellin rose to the occasion, Gorazd Skof boarded up his goal in the final ten minutes, and Jonas Thümmler turned into the hero of a crazy final spell. HC Erlangen fought with all it had to cut the deficit to one goal. Skof saved the shot on what might have been a deciding attack by Lübbecke with his left shoulder and so HC gained the chance to take home a point. Jonas Thümmler was set free at the crease and scored his fourth goal to capture an important point for his side in Lübbecke.
Aðalsteinn Eyjólfsson commented: "My team again put a number of hard knocks behind it today and demonstrated irrepressible morale. It was very important to come back here today and take a point away."
There are no games in the DKB German Handball League this weekend due to an international. HC Erlangen will be back in action on Saturday, April 14, when TSV Hannover-Burgdorf visits the ARENA NÜRNBERGER Versicherung for a game that starts at 8:30 p.m.