Berlin
medi Bayreuth go out in the last sixteen of the cup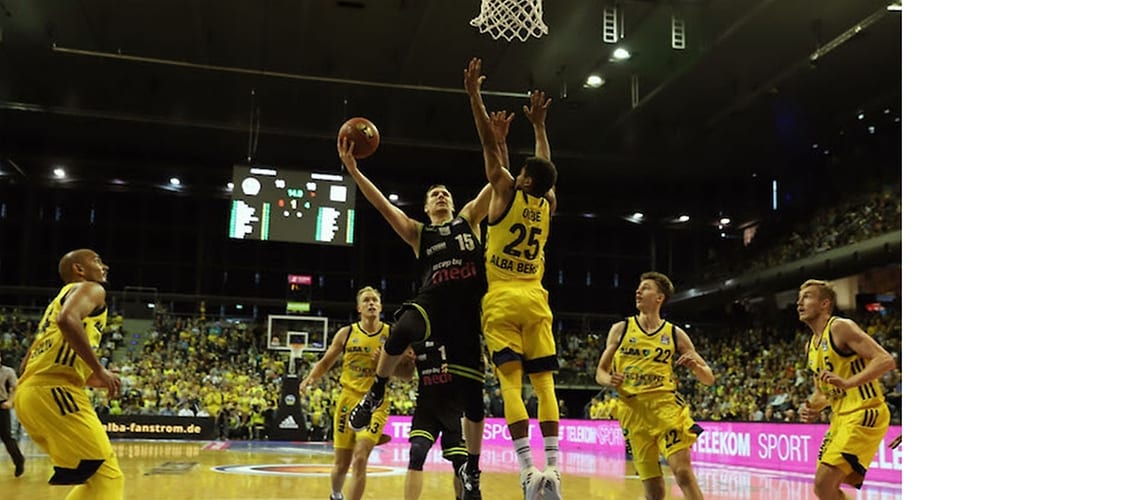 Berlin, 10-07-2018
medi Bayreuth has been knocked out in the last sixteen of the BBL Cup. medi Bayreuth lost to Alba Berlin, last season's league runners-up, by 68:88 (34:50) in front of 6,851 spectators in the Max Schmeling Arena on Sunday afternoon. Like last year, medi Bayreuth have therefore been knocked out of the cup by Alba Berlin again. Last season it was in the semi-final, but this time the team of Head Coach Raoul Korner succumbed to the Albatrosses in the first round.
Both teams found it difficult at the start of the encounter to get into their stride in the new cup format. Technical problems with the shot clock in Alba Berlin's alternative venue, the Max Schmeling Arena, meant that the first period lasted for an unusually long time: 40 minutes. medi Bayreuth initially came to terms with those difficulties better and, spurred on by David Stockton, was able to open up a small lead. An evenly matched encounter ensued midway through the period, but neither side was able to open up a gap and so the first quarter ended in a tie.
In the second period, the players of Coach Aito stepped up their intensity, especially in defense, forcing their opponents sometimes to take very difficult shots. Since Alba was able to stick to its game plan, despite the fact that Joshiko Saibou withdrew shortly before the game and Peyton Siva chalked up a high foul count early on, it pulled away point by point and had almost decided the game by half-time.
There was a moment of shock for medi Bayreuth with 5:29 left in the third period, when De'Mon Brooks was suddenly left lying on the floor in his own zone after an attack by Berlin. That was preceded by a collision between Andreas Seiferth and Rokas Giedraitis, as a result of which the Lithuanian player struck the head of Bayreuth's power forward with the back of his head. De'Mon Brooks, who had even lost consciousness for a moment, was on the floor for several minutes, but was then able to leave the court on his own feet, supported by physiotherapist Kevin Schneider. The American player was taken immediately to hospital in Berlin for a close examination and mild concussion was diagnosed.
After that, the team snapped into action again. Bayreuth was more energetic in defense and suddenly the shots dropped in offense. Only Berlin's clear superiority in rebounding and a few carelessly squandered actions in attack prevented the visitors from reducing the deficit even more.
However, the team of Berlin's best player, Niels Giffey, thwarted this comeback in the fourth period and quickly sealed the encounter. The Albatrosses left no doubt as to who would advance to the quarter-finals of the BBL cup. Thanks to a strong shooting percentage from the floor over the whole game and clear superiority in rebounding (40:23), Alba Berlin deservedly ran out winners.
Source: www.medi-bayreuth.de