Oberlungwitz
Christian Engelhart finishes as best German pilot and runner-up in the ADAC GT Masters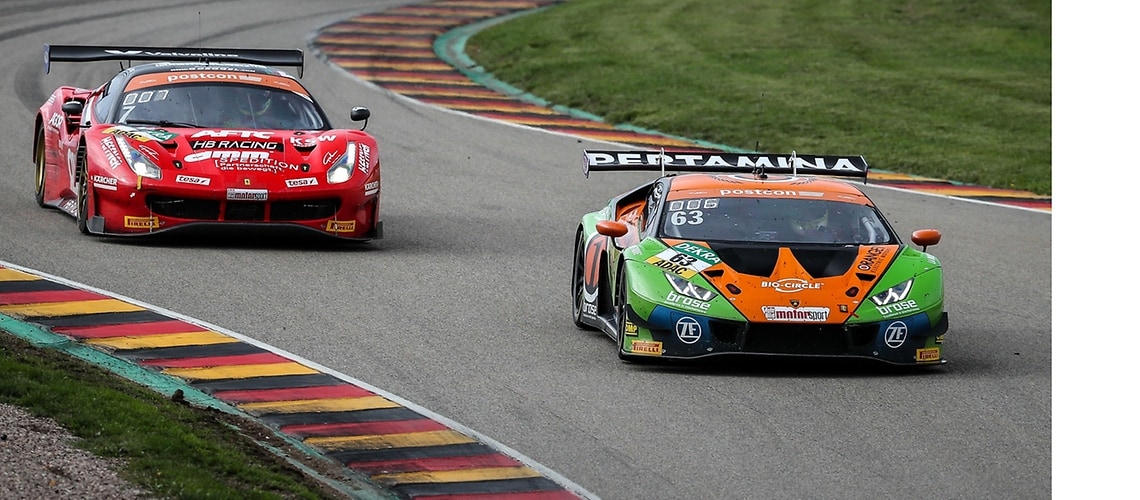 Oberlungwitz, 09-29-2019
The Lamborghini duo of Christian Engelhart and Mirko Bortolotti had to fight down to the wire at the finale of the ADAC GT Masters last weekend in order to secure the runners-up spot in the last race of the season. The end result is that Christian can be as happy as he is proud about finishing the world's toughest GT series as the best German driver.
The finale of the ADAC GT Master on the legendary Sachsenring turned into another real fight, underscoring once more just how strong the series is. Despite the enormous competition, Christian Engelhart and Mirko Bortolotti were able to impress with another strong performance in the green Lamborghini Huracan GT3 Evo #63 of the Grasser Racing Team in the last two races of the season and add 21 points to their championship tally.
The final standings on the Sunday afternoon showed how vital every single point in this season was: Helped by three wins, Christian ended up as the best German pilot and secured the runners-up spot – by a slender one point. None of the more than 30 other pilots captured as many victories.
"It's an outstanding result for me and it's down to our strong teamwork. Along with Mirko and the entire Grasser Racing Team, we gained steadily in strength as the season progressed and improved immensely after a tough spell at the beginning. Of course, that cost a lot of energy, but we're all fighters and have reaped the rewards for our hard work by capturing the runners-up title. I'm proud to have done my bit in that. However, I'd above all like say how grateful I am to everyone involved, my partners and sponsors and, of course, my fans. Every one of them helped make this success possible. Thank you!"
That brings an end to an intense season of motor racing for Christian, in which he was on the rostrum a total of four times in the ADAC GT Masters. At the same time, Christian and Mirko were able to secure third place in the Blancpain GT Series, despite the fact that the race in Barcelona last weekend clashed with the ADAC GT Masters finale and so they were not able to take part in it.
"Our success in the Blancpain GT Series shows we were able to put together a really strong package this year. Together with Mirko and GRT, we were always among the front-runners in this championship's races and captured six podiums. That was a huge feat by everyone, as basically we were alternating every week and competing almost every weekend on tracks throughout Europe – and, as it turned out, with great success. That makes me proud."