Ulm
s.Oliver Würzburg suffers narrow 69:72 defeat at ratiopharm ulm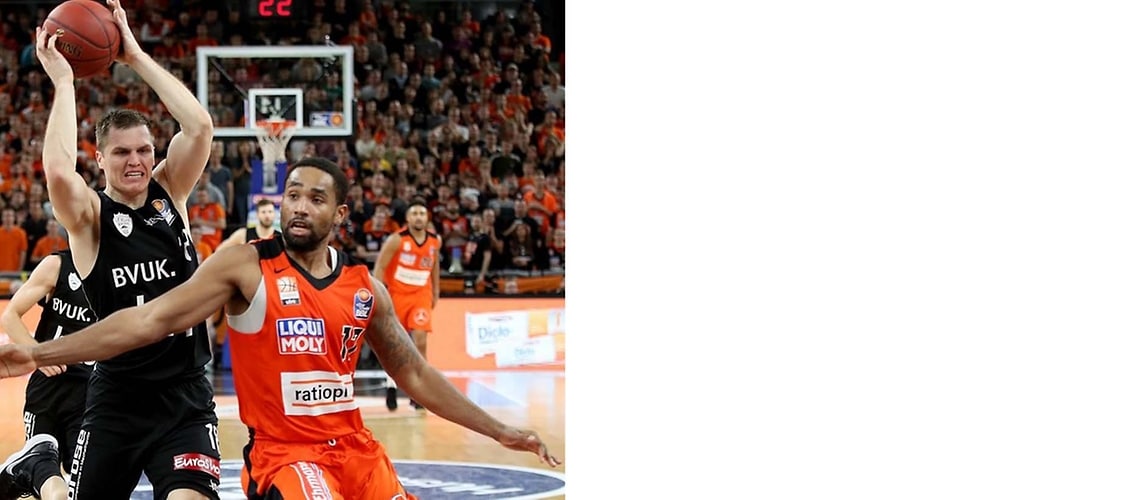 Ulm, 12-16-2017
Despite a very strong performance in defense and a great fighting display until the death, Würzburg was not able to secure a victory on the road in the sold-out Ulmer Arena on Saturday.
In the first period, it was mainly due to the fact that the club from Franconia had bad luck with its shooting that the home side was quickly able to build a 19:7 lead by the 7th minute: Several shots and lay-ups rebounded out of the basket. It was above all Ulm's Da'Sean Butler, Isaac Fotu and playmaker Per Günther with the first two out of his total of six buckets from beyond the arc (out of seven attempts) who put their stamp on the game in the opening.
Things then went better for the visitors from the 7th minute on. The foundation for Würzburg's first comeback was its defense: For more than five minutes, the club from Swabia was not able to add a single point on its home turf, with the result that the visitors produced a run of 11 points without reply to cut the deficit to 19:18 in the 12th minute. From then on at the latest, the 6,200 spectators saw an intense, evenly poised tussle from both sides, in which s.Oliver Würzburg found an answer to every spurt by the home side. Nor was it disconcerted for long by the fact that Ulm went 12 points ahead for the second time after a bucket from outside by Günther (42:30 in the 23rd minute). After Head Coach Bauermann called a timeout, Würzburg needed six minutes to slash the deficit to 51:50.
In the 33rd minute Robin Benzing, captain of the German national team, tied the scores from the foul line (58:58). Just a minute later, Cliff Hammonds drained a three to give Würzburg the lead again for the first time since the opening minute: 60:61.
With 39 seconds to go, Da'Sean Butler put the home side 70:67 ahead, but Hammonds struck back with a floater to make it 70:69. After a tactical foul, it was then Ryan Thompson who, with just under 16 seconds remaining on the clock, drained two free throws to make the final score 69:72. In the dying seconds, E.J. Singler managed to steal possession near Ulm's baseline and play a quick pass to Abdul Gaddy. However, his shot from outside, which would have taken the game into overtime, missed the mark.