Liezen
Second top result for the Brose rally team in Austria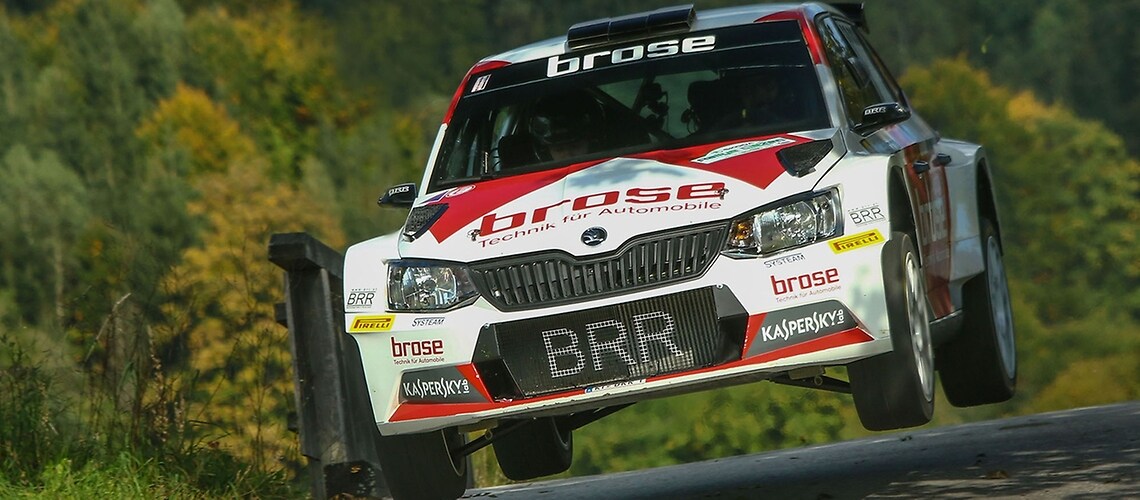 Liezen, 09-30-2017
The Liezen Škoda Rally in Styria is part of the European Rally Tour (ERT) and attracted an outstanding field with major international figures. The Brose Motorsport rally team of Dominik Dinkel / Christina Kohl again gathered valuable experience there for the German Rally Championship (DRM).
"Things went a lot better for us than expected," said pilot Dominik Dinkel at the finish. Three World Rally Championship (WRC) cars and eleven R5 vehicles lined up at the Liezen Rally, where 13 trials had to be driven in best time over a total of 150.42 kilometers. The routes were mainly on firm surfaces, although there were some gravel passages, and were dry thanks to the good weather.
Dinkel/Kohl got off to an ideal start on the Friday. The experience from the Weiz Rally helped them maintain a high speed on the tricky asphalt and clock the best time for an R5 in trial 2. Only the three technically superior WRC cars were a few seconds ahead of them. The team embarked on the second day in fourth place overall.
The 19.27 kilometers of the Oppenberg trial were the major challenge in the rally in Dinkel's view: "That was without a doubt the most demanding and toughest trial I've ever driven. Over large parts of it, there are smooth rock faces on one side and deep chasms on the other. We tackled this stretch with a lot of respect," stated Dominik Dinkel.
The Brose Team held its own magnificently, losing just a minuscule 84 hundredths over local hero Aigner. On the repeat run, the team also significantly reduced the gaps between it and its experienced R5 colleagues and, as third-best in the group, claimed fifth place overall.
Dominik and Christina again produced an outstanding performance on the final 14.05-kilometer trial. In the first run, they clocked the second-best time, just 7.7 seconds behind the later overall winners Raimund Baumschlager / Pirmin Winklhofer in a VW Polo R WRC, and the third-best time in the second run. However, Andreas Aigner / Ilka Minor finished first with a gap of 24.1 seconds over the runners-up after the 150.42 kilometers. Hermann Neubauer / Bernhard Ettel finished fourth overall ahead of Dinkel / Kohl. Just 1.9 seconds finally separated the Brose rally team and the reigning Austrian champion.
Dominik Dinkel / Christina Kohl thus improved on their fine performance at the Weiz Rally. "We felt very well here from the word go. As always, the BRR team looked after our car perfectly. We can take valuable findings away with us from Liezen. Now we're looking forward keenly to the finale of the German Rally Championship, the Three Towns Rally on October 20 and 21. We still have a chance to win the title and definitely intend to use it!"