Vilsbiburg
Third-quarter eruption powers BBC COBURG win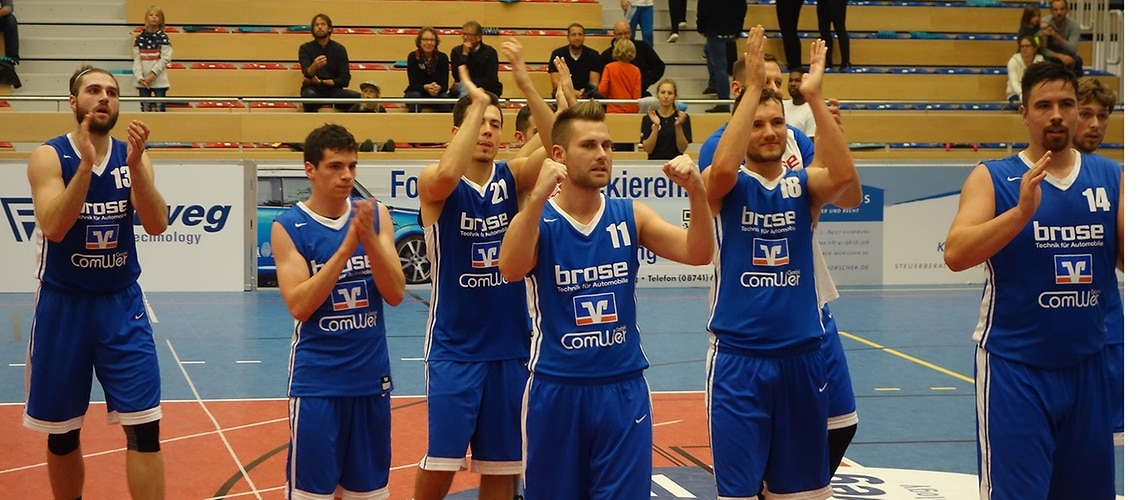 Vilsbiburg, 10-22-2016
A 40-point offensive explosion in the third quarter helped BBC COBURG to a 113:84 (54:45) blowout win at 1. Regionalliga favorites Baskets Vilsbiburg on Sunday. With a 3-1 record, head coach Simon Bertram's team is now tied for 3rd in the league standings.
Both teams did not waste any time to find their respective offensive rhythms. While good ball movement and smart pick-and-roll action orchestrated by BBC floor General Kevin Eichelsdoerfer (5 assists) led to numerous open looks and easy baskets for the visitors. For Vilsbiburg, it was mainly point guard John Boyer (17 points in the first half) who kept them in the game early on with his individual scoring output (24:31). Midway through the second quarter, BBC COBURG managed to pull away for the first time. Three-pointers by reserve guards Jonny Tritscher and Sasa Gligorovic, a feathery mid-range jumper by Steffen Walde and a putback by center Manuel Imamovic extended the lead to 15 (39:54). However, a 6-0 run by the hosts that culminated in a made three at the half time buzzer, cut the Coburg lead to nine (45:54).
With the crowd of 1,100 expecting a nail-biter second half, BBC COBURG came out of the locker room with all guns blazing. In what turned out to be the best ten minutes of BBC basketball so far this season, the visitors forced a plethora of Vilsbiburg turnovers and capitalized on these takeaways by running a high-octane fastbreak offense. In particular, the "triple threat" posed by forwards Jordan Burris, who finished with a game-high 28 points, Walde (23 pts, 6 ass) and Fabian Franke (22 pts) now proved to be unstoppable for the opposition. Within minutes, the BBC lead ballooned to a whopping 30 points (64:94). Vilsbiburg never recovered and the onslaught continued in the last stanza. Two Eichelsdoerfer free throws and a reverse layup by Walde after a football-style touchdown pass by Imamovic gave BBC its largest lead of the night (66:105) with six minutes to go. With the game in the books, Coach Bertram subbed in his reserves who put the finishing touches on a huge road win for the 1. Regionalliga newcomers.
"We had scouted them thoroughly and were aware of their weaknesses. Today, we did a very good job of exploiting these weaknesses and sticking to our game plan. Instead of engaging in a perimeter shootout, we kept attacking the basket, resulting in 28 free throw attempts. We beat a quality opponent today", the BBC head coach commented after the game.
On Saturday, October 29, at 7 pm, BBC COBURG face hapa Piranhas Ansbach in HUK-COBURG arena.