Bayreuth
Winning streak of Bayreuth comes to an end against Jena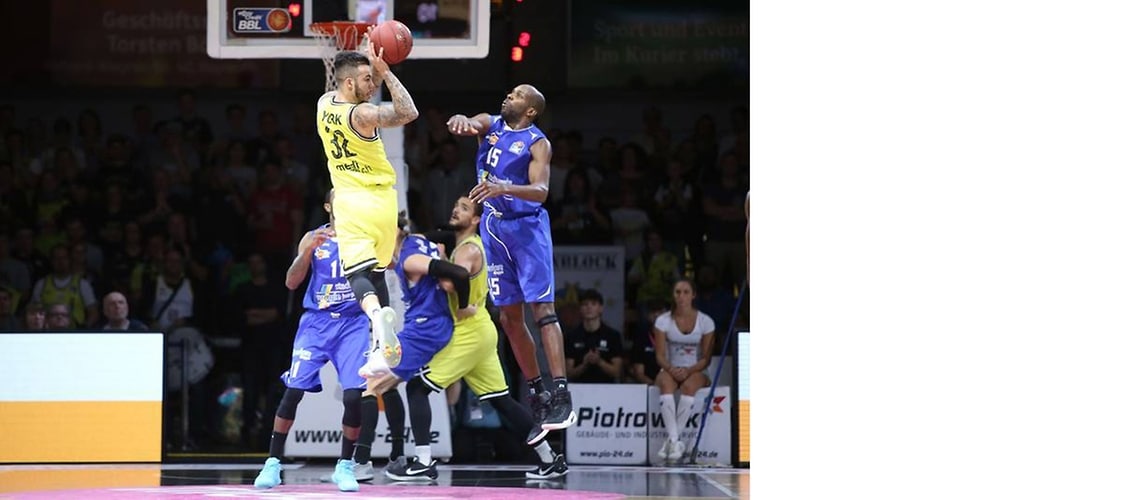 Bayreuth, 10-15-2017
medi bayreuth's string of victories in the easyCredit German Basketball League has been broken. The team of Head Coach Raoul Korner lost its home game in the Oberfrankenhalle against Science City Jena on Sunday afternoon by 75:88.
Buoyed by its home win over Ulm, the team of Head Coach Björn Harmsen got off to a strong start. Buckets from outside by Immanuel McElroy and Skyler Bowlin quickly put Jena ahead. Once again, media channeled many of its moves through Assem Marei in the opening spell. He notched up all of Bayreuth's first six points, but the entire team had problems with the aggressive and tough defending of the club from Thuringia. Jena kept on committing fouls so as to prevent medi getting into its stride at any stage. Bayreuth scored its first three – and its only one in the first half-time – through Steve Wachalski to make it 16:18, the closest the margin would be in the whole encounter. However, recent signing Martynas Mazeika went down the other end to score a buzzer-beating bucket from beyond the arc (16:21).
Jena pulled away by ten points for the first time in the opening three minutes of the second period. And Bayreuth was still unable to move into top gear. Following a technical foul by Assem Marei, Jena led 22:36 in the 17th minute. It maintained its clear lead up to break thanks to a strong shooting percentage compared to Bayreuth's weak one.
Jena remained strong after the break and, as in the first half, began in sparkling fashion. Bayreuth was forced to call an early timeout after a 0:8 run. The visitors again deployed the tactic of early fouls so as to prevent medi from getting into its flow. Jena now benefited from weak shooting from the foul line by the Heroes Of Tomorrow, who only managed to drain 56 percent of all their attempts in the second half. Although important threes by Bayreuth now dropped, the visitors not only kept medi at arm's length skilfully, but also stretched their lead to 27 points at one stage.
Spurred on by captain Bastian Doreth, medi found new energy in the final period. As a result, the Heroes Of Tomorrow managed to reduce the deficit to 67:79, yet the visitors played out the final minutes very calmly and collectedly to run out comfortable winners.
medi bayreuth now hosts SIG Strasbourg in the Brose Arena in Bamberg on Wednesday. Its second game in the Basketball Champions League tips off at 8 p.m.