Shanghai
WTCC: Monteiro did not line up in Shanghai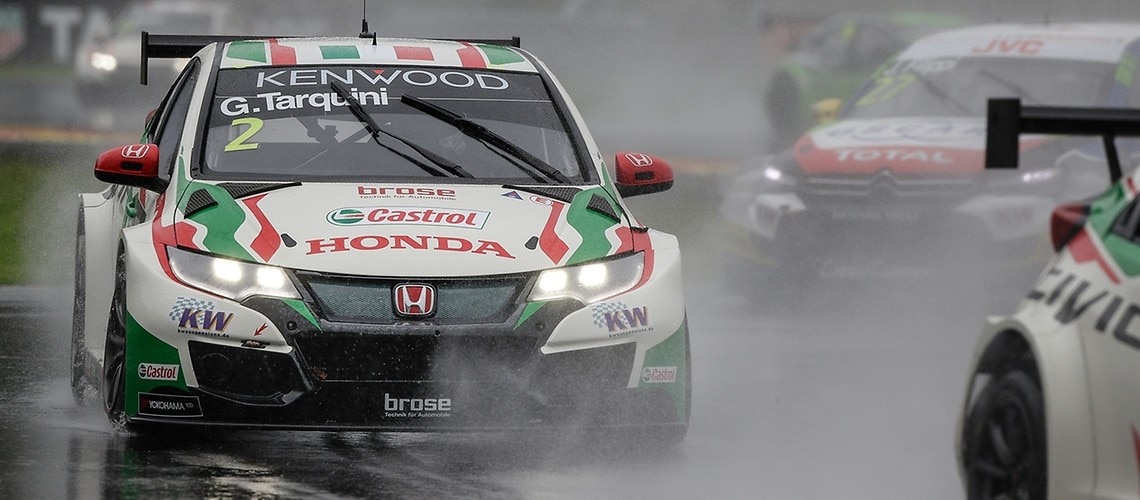 Shanghai, 10-15-2017
A serious accident in Spain at the beginning of September meant that Tiago Monteiro was not able to start at the WTCC race in Shanghai last weekend. The WTCC cars that lined up bore stickers with "#GoTiago18" printed on them as a token of support for the missing Monteiro. The pilot, who was leading the drivers' championship before the WTCC race in China, is still recovering among his family in Portugal. Going into the next race in Japan, Monteiro is currently in second overall, just 0.5 points behind the leader Bjork Thed.
The first-ever FIA WTCC race on the new track in Ningbo, China, ended in disappointment. Extremely adverse weather conditions induced the stewards to abort the Main Race in the World Touring Car Championship after just three laps and not to restart it. Heavy rain had already turned the Opening Race into an extremely difficult affair. However, the rain worsened for the Main Race and so the stewards sent out the safety car. Yet it soon became obvious that the conditions were too dangerous for the pilots to be given the all-clear.
Rob Huff stated from the pits that racing was impossible under such conditions. The British pilot had collided with his compatriot Tom Chilton in the Opening Race and damaged his steering wheel. "It's too dangerous," said Huff. "The safety car can drive faster than us under these conditions. It's far worse then it's ever been this weekend. You simply have to call it off. I'm almost happy not to be on the track now because it's pouring down so badly."
Néstor Girolami, who started from pole position, commented right after the stewards had taken their decision: "Such things happen. The weather is getting worse. The track was soaked. It was really dangerous. You have to think of safety. It's a good decision."
Because only three laps were completed behind the safety car, no points have been awarded for the Main Race in China.
The 2017 FIA WTCC 2017 now moves to the Twin Ring Motegi in Japan from October 27 through 29, 2017.