Bayreuth
A composed performance by Würzburg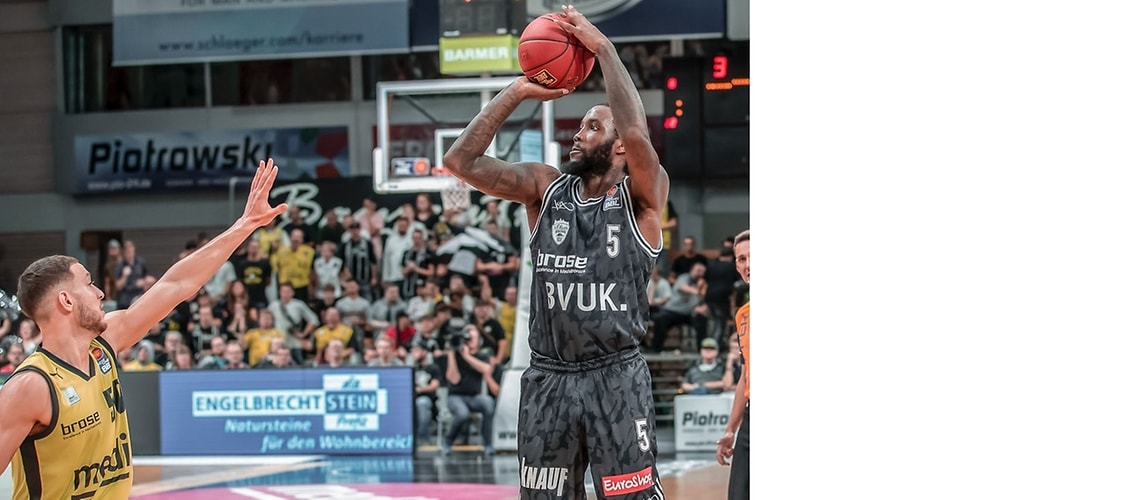 Bayreuth, 10-13-2019
Following its first home win of the season against BG Göttingen, s.Oliver Würzburg notched up its first victory on the road on the 3rd game day of the easyCredit German Basketball League. The club from Lower Franconia defeated medi Bayreuth by 88:79 (47:38) on the road thanks to a fine, composed display over large stretches of the encounter. Two players celebrated their German league debut: New signing Victor Rudd Jr. was engaged at short notice as a replacement for Noah Allen, whose two-month contract was not extended. The Lithuanian Rytis Pipiras from the ProB farm team was called up to the squad of Head Coach Denis Wucherer in place of Brekkott Chapman, who injured his knee in training and will be out of action for several months.
Whereas Pipiras had spent the whole pre-season warm-up period with s.Oliver Würzburg and also played in the test game against Darussafaka Istanbul, Victor Rudd Jr. did not arrive in Würzburg until Thursday and was only able to train with his new team twice before the Franconian derby. "Victor has already played for a number of big clubs and boasts physical strength and height. We believe we can increase our flexibility with him in the tall positions. That will be all the more important in the coming weeks and months future after Brekkott Chapman's knee injury," said Denis Wucherer about the 28-year-old 2.06-meter American, who played for Maccabi Tel Aviv in the EuroLeague in 2016/2017 and then participated in the Final Four of the same competition with CSKA Moscow a year later.
The new signing was given a taste of what to expect in his seven minutes on court in the Franconian derby in Bayreuth, but was not able to make any real mark. Wucherer began with a short line-up and three point guards in front of a crowd of 3,100 in the Oberfrankenhalle: Nils Haßfurther, Florian Koch and Luke Fischer were in the starting five for the first time and were joined by Skyler Bowlin and "General" Cameron Wells. And they clicked from the tip-off: Although Bayreuth went ahead with a bucket from downtown by Bryce Alford, that was to be the only three the club from Upper Franconia would score in the entire encounter. Bowlin, Wells and Fischer struck back with Würzburg's first 20 points, gave their side a quick double-digit lead (7:17 in the 5th minute) and so put the visitors on the road to victory early on.
The Würzburg trio finished up with a combined tally of 56 points: Cam Wells was top scorer with 22, Skyler Bowlin chalked up 18, and Luke Fischer – three days after the birth of his first child – not only produced a double double, but a very strong performance all-round with 16 points, 10 rebounds, 6 assists and 5 blocks. Jordan Hulls also got into the fray in offense for the first time in the second period: His bucket from outside with his left hand to make it 20:31 in the 11th minute was his 250th three in the easyCredit German Basketball League. Just three minutes later, Cameron Wells drained his 500th two-point field goal in the German league (24:38).
The home side was only able to reduce the deficit slightly by half-time (38:47) and even after the break was not really able to accomplish much in offense, adding just seven points in the first eight minutes of the third period and so allowing s.Oliver Würzburg to pull 45:65 ahead. The club from Lower Franconia defended that 20-point advantage to the end with a "pretty composed performance," as Denis Wucherer emphasized afterwards. The game got tight again just before the end because the visitors began to stutter in offense and were able to add just one free throw between the 35th and 39th minutes against a Bayreuth team that fought tenaciously.
Evan Bruinsma got the home side back within striking distance (74:81 in the 39th minute) almost single-handedly in this spell, but then Cameron Wells sealed s.Oliver Würzburg's second win of the season with a lay-up and an and one.
"We're delighted to have won here in Bayreuth. It was a relatively composed performance by us over large stretches. The change in Bayreuth's defensive tactics threw us off our stride a bit in the third period. I'm happy we were able to drain the one or other important three from the corner and so seal victory. If we step up the pace and then play a pick and roll on the second wave, you can unlock that sort of defending with two or three quick passes. Then we get good chances to score just about all the time and we also have the good shooters to exploit and punish that," was how Head Coach Denis Wucherer summed up the encounter.
s.Oliver Würzburg now faces three home games in succession, including two top ones. The two German EuroLeague participants come to the s.Oliver Arena on the next two Sundays: Last season's runners-up ALBA BERLIN on October 20 and title-holders FC Bayern Munich on October 27 (both games tip off at 3 p.m.). That is followed by the duel against SYNTAINICS MBC on November 2.