Rossach
Absolutely solid presentation by Dominik Dinkel at the Rome Rallye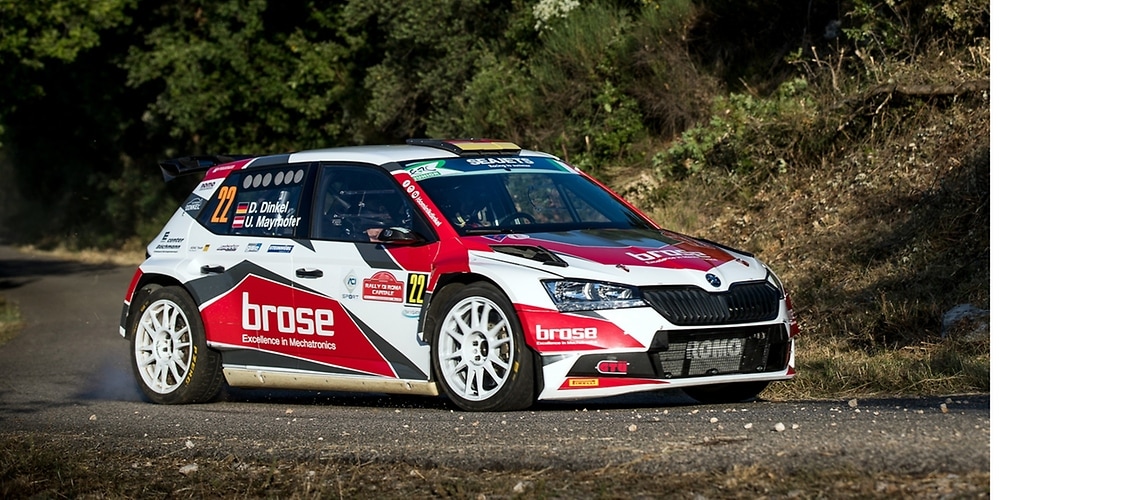 Rossach, 07-27-2020
When studying the list of participants, it was already clear that it would be anything but easy for the Brose Rally Team Dominik Dinkel / Ursula Mayrhofer at the "Rally di Roma Capitale". Regardless of this, the European Rally Championship (ERC) and Rallye Rome-newcomers with their Brose Skoda Fabia reeled off a sparkling clean event, securing 15th place overall and 7th place in the junior classification for drivers up to 27 years old.
"The rally itself was really demanding with its changing track character. On Saturday, narrow, hilly asphalt roads with lots of hairpins had to be mastered. On the final Sunday there were also fast passages, most of whose corners were not visible and therefore had to be tackled blind. In addition, the participants who started in front of us carried a lot of gravel and loose stones onto the road surface caused by their extreme curve cutting - another factor that was difficult to calculate in finding the optimum speed and the perfect line", says Dominik Dinkel.
The Brose Rally Team mastered the demands of the event very well. On the 15 special stages (SS) located south of Rome, which had a total length of almost 200 kilometres, they found the right balance between safe driving and speed right from the start. This helped them to avoid time-consuming mistakes and punctures at outside temperatures of up to 35°. Despite the handicap of not having contested a rally this year, unlike many of their international competitors, they set two top five times in the juniors' classification and were even third fastest on SS 7.
"All in all, we have established a solid base in Italy together with the Romo Motorsport Technology team, we understand the new Brose Skoda Fabia Rally2 Evo better and better. This is something we have to build on in the coming rounds," concludes Dominik Dinkel. After the long, Corona-related rally shutdown, things will soon be moving on. A new challenge awaits the Brose Rally Team from 14 to 16 August with the rally Liepaja. This is because that for the first time this season, super-fast gravel stages await the ERC-participants in Latvia.
ERC1 dates Brose Rally Team Dominik Dinkel / Ursula Mayrhofer
14 - 16 August Rally Liepaja Gravel
17 - 19 September Azores Rally Gravel
26 - 28 November Rally Islas Canarias Asphalt