Munich
After a very strong first half, medi bayreuth loses to FC Bayern München 68:81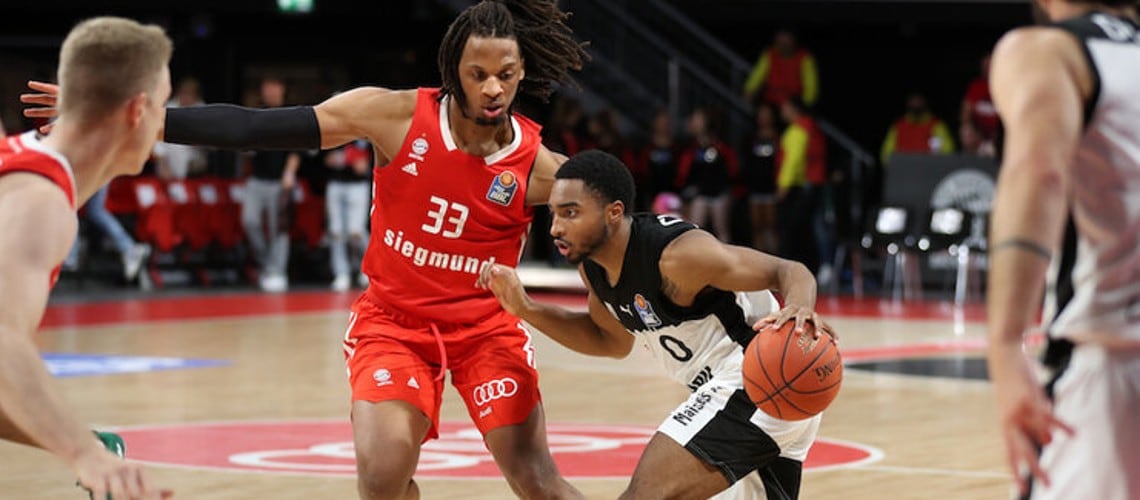 Munich, 11-06-2022
For medi bayreuth, the 6th matchday in the easyCredit Basketball Bundesliga ended with the result that was probably to be expected. In the guest game at the EuroLeague team of FC Bayern Munich, there was nothing to get for the Bayreuth team on Sunday evening and they lost 68:81 in front of 4,622 spectators in the Audi Dome.
In the first half Bastian Doreth & Co. presented themselves very strongly and were even in the lead at the change of ends thanks to a strong defense. The Bavarians got off to the better start in the game and were already leading 12:5 after a good four minutes. However, various substitutions, including that of Jarrod West, then brought new momentum into the Medi game. The newcomer led the team back to the Bavarians and with a three-pointer he himself ensured the 16:18 intermediate score after the first quarter.
In the second period, the game remained even and after 15 minutes, both teams were still tied at 28:28. Medi played very concentrated in this phase. In the offense, the ball was moved well and good throws were made. In defense, they were able to build up pressure again and again and even force the Bavarians to make easy mistakes. The reward for two strong quarters was a 36:34 lead at the break.
Even after the change of ends, medi kept up a good fight. At 38:41, the team had only scored two points in the second half, but the Munich team also lacked offensive punch. Then, however, came Cassius Winston. He scored eight points in less than two minutes to give FCBB its first double-digit lead in the 28th minute. The Bavarians stayed on the gas pedal and another 10-0 run already ensured the decision at 62:42 after 30 minutes.
In the final period, Bayreuth was more concentrated again, but Bayern managed to keep medi at a distance and finally earned a deserved victory.
Lars Masell (Head Coach medi bayreuth):
"First of all, congratulations to Bayern Munich and Coach Andrea Trinchieri on this win and also still on the victory in the EuroLeague against Efes. We had nothing to lose here today and performed very well in three quarters. In the third period, however, Bayern took us completely out of the game, which sums up the match.