Weißenfels
Bamberg captures third straight away win at MBC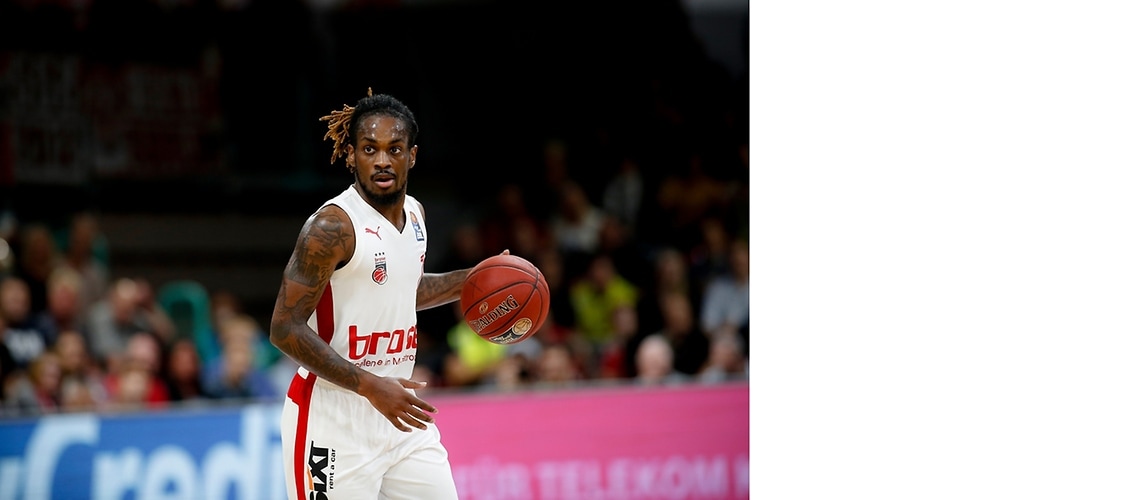 Weißenfels, 10-13-2019
Brose Bamberg seems to feel at home on the road: The newly formed team has chalked up its third win in its third away game of the season. Following its victories at Bayreuth in the league opener and at Gießen in the cup, Bamberg also defeated the "Wolves" of Mitteldeutscher BC by 99:96, albeit after overtime.
The visitors got off to the far better start and soon pulled 9:2 ahead thanks to three points each by Assem Marei and Christian Sengfelder and a bucket from downtown from Louis Olinde. Yet Bamberg was unable to build on its lead. Whenever the team of Head Coach Roel Moors went ahead, the MBC kept hitting back and it closed the deficit to 9:8 after six minutes. Elias Harris, Maurice Stuckey and Nelson Weidemann stretched the gap to 22:14, but then the home side produced a 13:5 run straddling the periods to tie the scores at 27:27. Bamberg then allowed the Wolves to get into their stride better in offense and, after leading 34:38, the home side went in at half-time with a three-point advantage (39:42), also because the visitors missed a large number of free throws – eight up to the break.
The lead changed hands a number of times after the restart before Louis Olinde in particular came into his own and added ten points to put his side 61:54 ahead midway through the third period. Yet Bamberg was once again not able to extend its lead and, after two crazy threes in the space of 25 seconds, the MBC had cut the deficit to 61:60. To the cheers of the 30 Bamberg fans who had made the journey, Michael Carrera added four points to put the visitors 70:64 in front at the end of the quarter, and after that the Venezuelan put his side 76:66 ahead. Yet the Wolves struck back with a run of ten points without reply to equalize. Even after Bamberg went 86:80 ahead through the two top scorers Louis Olinde (21 points) and Assem Marei (18) with 80 seconds to go, the home side hit back again to tie the encounter at 88:88 and send it into overtime. But Bamberg now finally wrested the upper hand, defending strongly and taking a decisive 95:88 lead thanks to a lay-up by Paris Lee (9 points), Louis Olinde's sixth three and two free throws from Assem Marei. Louis Olinde, who notched up a career best of 21 points, 12 rebounds and four assists, then mercilessly thwarted two MBC attacks with his blocks to secure the away win for Bamberg.
Brose Bamberg's Head Coach Roel Moors commented: "It was a very difficult game. The home side deserved respect and played very good basketball. However, we also showed character. For example, when you look at the moment that won the game, when Louis Olinde blocked an important shot. We play really good basketball in spells, then we make two or three mistakes and the other side is right back in contention. It was a tough game. I'm happy we ran out winners. But it shows we've still got a lot of work to do."
Brose Bamberg faces its first game in the new Champions League seasons on Wednesday, October 16, 2019, when it visits CEZ Nymburk. However, the game (tip-off: 6:30 p.m.) will be held in the Královka Arena in Prague.
For more information visit www.brosebamberg.de, www.easycredit-bbl.de and http://www.championsleague.basketball/de.