Bayreuth
Basketball: Bayreuth loses to NINERS Chemnitz despite strong half-time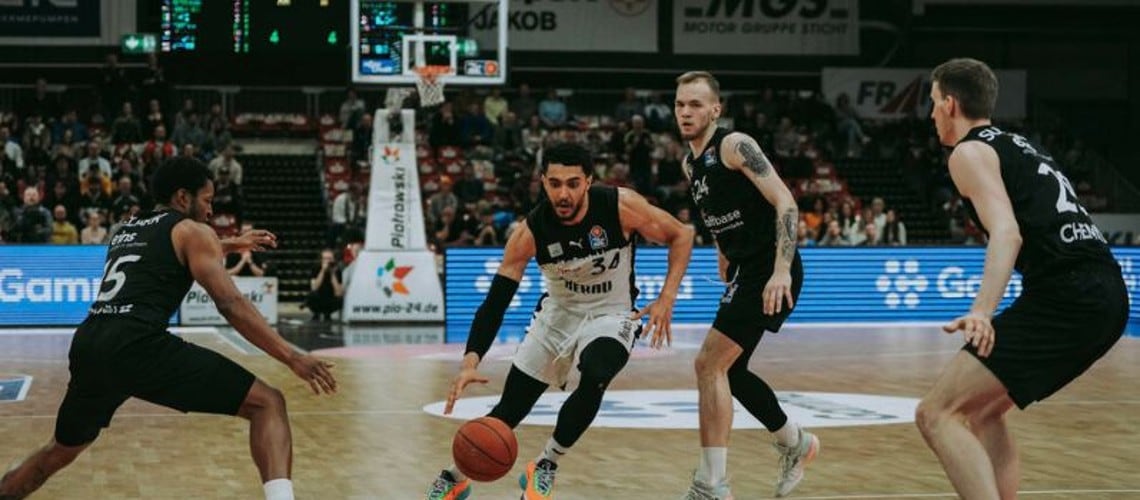 Bayreuth, 04-18-2023
After three away defeats in a row, medi bayreuth also lost the home game on the 29th matchday in the easyCredit Basketball. In front of 2,229 spectators in the Bayreuth Oberfrankenhalle, medi lost to the NINERS from Chemnitz with 86:102.
Both teams started the game somewhat timidly and it took almost two minutes until Jackson Rowe scored the first points of the evening with a dunk. From then on, it was a duel of equals. Although medi was mostly ahead and could achieve the highest lead of the first ten minutes with 19:15, Chemnitz always found the right answer, so that they had a narrow 26:24 lead after the first quarter.
In the second session, medi wanted to know what it was all about. Apart from a few lapses, medi now took control of the game. The highest medi lead was twelve points, which they achieved mainly through intensive and effective defence, but also thanks to the strong trio of Jackson Rowe, Ahmed Hill and Kalif Young. Until half-time, medi managed to keep the lead at eight points.
The guests came back from half-time with a lot of energy and crept closer and closer to medi. In the 26th minute, after an 8:0 run, the Saxons managed to equalise again for the first time since the 7:7 from the third minute of the game. The score was tied twice more in this quarter, but two successful free throws by Nelson Weidemann gave the Chemnitzers the narrow 69:67 lead after 30 minutes.
Now the Chemnitz team took control of the game and pulled away point by point. Especially Aher Uguak could hardly be controlled by the medi defence. Head Coach Mladen Drijencic's team tried their best, but the dominance of Chemnitz was too great for Head Coach Rodrigo Pastore's team to be in danger again.
Mladen Drijencic: "During the half-time break I told my team that Chemnitz will be more physical now. They will be even more aggressive and we have to be ready to have an answer to that. I think that's where the problem was, because mentally we weren't strong enough to give the right answer to their more physical performance."
Next Sunday, the matchday 30 schedule takes the team to Frankfurt. Jump in the Süwag Energie ARENA is at 3 pm.