Stadtbergen
Basketball: BBC defeated by Leitershofen again with a weak team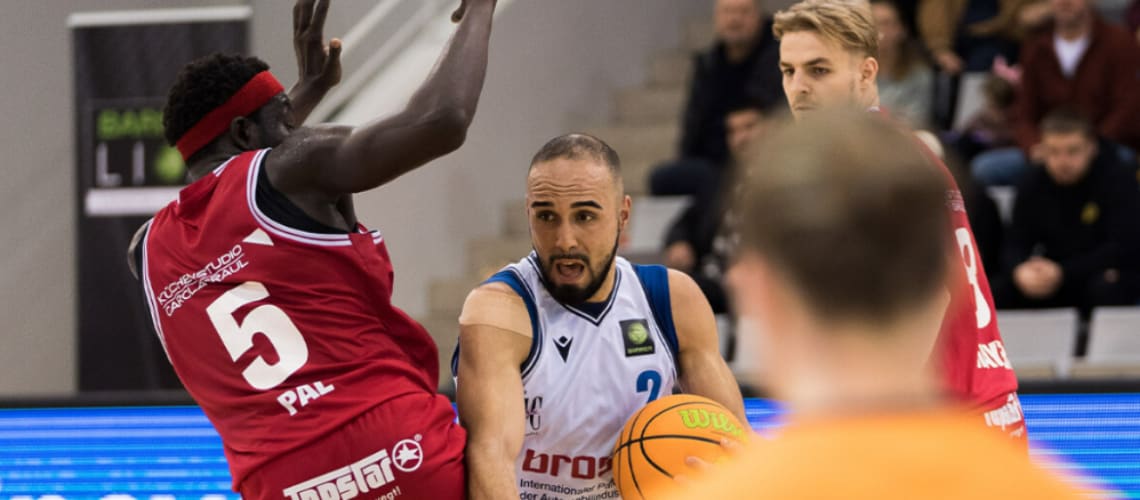 Stadtbergen, 03-25-2023
The decision about the home right in the playoffs has been postponed for BBC Coburg for the time being. They lost to the Kangaroos from Leitershofen on Saturday evening by a narrow 92:88 score. With only eight players, the BBC bench was again thin. Leitershofen, on the other hand, kept their play-off spot open with an energetic performance.
Without the injured Milan Suput and some young players like Nico Höllerl or Danas Kazakevicius, who were playing in an important game against relegation in the 2nd Regionalliga, coach Milos Petkovic had only eight players available in Leitershofen. In a hard-fought encounter, they ultimately had to admit defeat to the Kangaroos, who looked a little hungrier on Saturday evening and were loudly driven to victory by the 1500 supporters in their own hall.
You could see the tension and motivation on the Kangaroos' faces. However, the Vestädtern had a better start. Carrasco controlled the build-up routinely and the shooters in the person of Lorber, Blunt and Bulic finished with high percentages. Westermeir reduced the home side's deficit to three points shortly before the end of the quarter. In the second quarter, Leitershofen's Topalovic sank a three-pointer for his team. The Kangaroos remained determined and did not forgive Coburg any mistakes. At halftime, Leitershofen was ahead by a razor-thin margin of 45:44.
After the break, Coburg briefly took the lead again through Sonnefeld. Unfortunately, the BBC forward conceded his third foul in return, which immediately led to his substitution. The narrow Coburg rotation was now increasingly in foul trouble. But Coburg stayed in it and equalised at 64:64.
While the BBC was anxious to cut back on fouls in the third quarter, the home side now quickly got into foul trouble. Already after 80 seconds, the team foul limit was exceeded and Coburg continued to be on the same level. Despite the whistles in the Stadtbergen multi-purpose hall, Carrasco safely converted his free throws, giving Coburg a three-point lead. After Coburg's three-pointers did not fall for a long time, things initially went better again in the final period. Worthy's goal from beyond the line to make it 78:73 from the BBC's point of view prompted Kangaroos coach Richter to call a timeout.
A little later, it was Milos Petkovic who called his boys to the bench to talk after Lucas Mayer hit a three-pointer to make it 77:80. However, the hosts equalised again through Mayer. In crunch time, Teathloath Pal made the difference. He followed up a ball win with a dunk on the other side. Only a short time later, he cleared Adrian Petkovic's basket and the game was over.
BBC Coburg will not play next week. In their last home game on Easter Saturday against Ludwigsburg, the Coburg team can secure fourth place in the table with a win and thus the home right for the playoffs.