Heidelberg
Basketball Bundesliga: Bamberg Baskets secures third away win of the season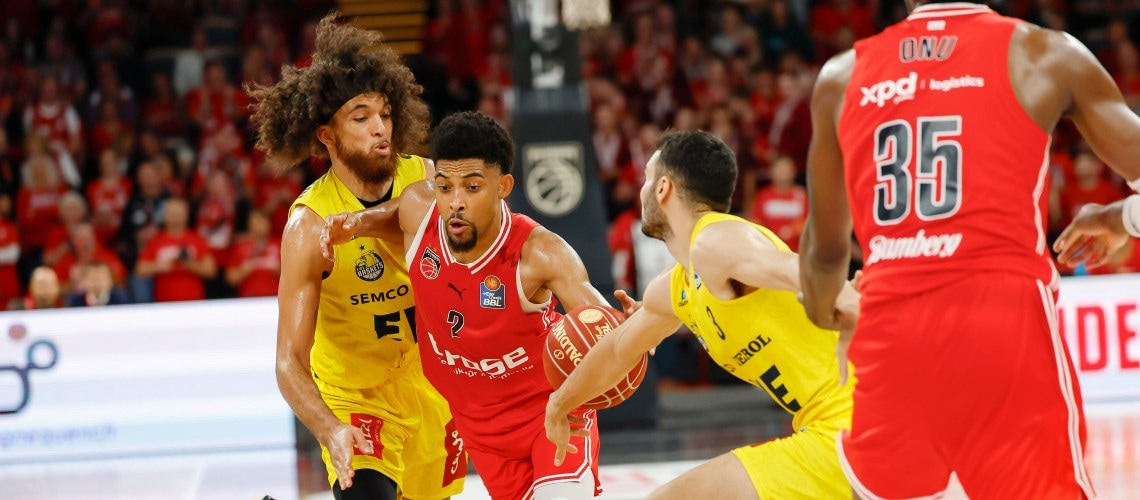 Heidelberg, 11-05-2023
That was commanding! Bamberg Baskets notched up its third away win in a row with a well-deserved 109:90 victory in Heidelberg. Thanks in particular to its 55 per cent three-point shooting percentage, Bamberg has moved up to 13th in the table and could move closer to the playoff places with a win over Ludwigsburg next Sunday.
The team of Head Coach Oren Amiel had learnt from the home defeat against Oldenburg. Bamberg missed too many shots from beyond the arc and had a poor shooting percentage. In Heidelberg, Amiel's team put a lot of pressure on the zone under the basket from the outset and only passed to the free three-point specialists when there was no way through. Amiel's plan worked - Bamberg drained 55 per cent of all three-pointers and 54 per cent of all two-pointers. The 15:6 lead after five minutes dwindled to 27:24 at the start of the second quarter, but Adrian Nelson and Filip Stanic secured a 52:42 advantage with ten points apiece before the break.
Zach Copeland in particular stepped on the gas in the third quarter - Bamberg's top scorer scored the first ten points after the break on his own and his three from his own half on the final buzzer of the quarter put paid to the home side's hopes of a home win. Bamberg played out a deserved victory with ease in the final ten minutes.
Oren Amiel (Head Coach Bamberg Baskets) commented: "We controlled the game, passed the ball well and varied between inside play and long-range shots. I'm not entirely satisfied with our defence. We had good sequences and then moments when we lost our focus. Heidelberg grabbed a lot of offensive rebounds and so scored too many points from second chances."
Bamberg Baskets visit MHP Riesen Ludwigsburg in the Brose Arena on Sunday, 12 November. Tip-off is at 3.30 pm.
Further information can be found at http://www.bamberg.basketball/ and www.easycredit-bbl.de.