Braunschweig
Basketball Bundesliga: Bamberg loses in Braunschweig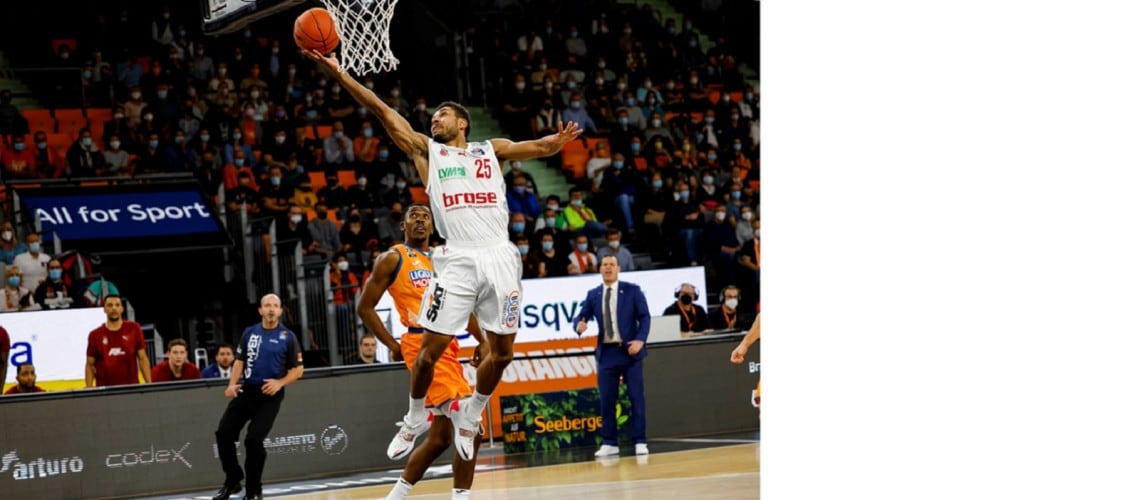 Braunschweig, 10-23-2021
The brilliant final spurt away to the Basketball Löwen Braunschweig was not rewarded: after trailing by 22 points (57:79) with eight minutes to go, Brose Bamberg came within five points (83:88) until 50 seconds before the end, but lost for the first time in this Bundesliga season. Despite the 84:90, Roijakkers' team remains top of the table.
In the first four games, the Löwen Braunschweig had impressed with a strong offense, putting up an average of 90 points. That the Lower Saxons wanted to repeat that against Bamberg, they showed already in the first five minutes. The Roijakkers team countered the quick 2:6 with a 7:0 run to the only lead at 9:6, but then the Bambergers caught four threes in four consecutive attacks, 11:18. By the end of the quarter, the gap grew to 18:27, and midway through the second quarter even to ten points (33:43). Since Kenneth Ogbe (12 points) converted only one of six free throws in the two minutes before the break, Bamberg only shortened the gap to 39:45.
After the change of ends, the Lower Saxons continued to hit their distance shots at an outstanding rate (15 threes in 30 attempts) in front of their 1,800 fans. Bamberg's defense was sometimes too slow and invited the home side to free throws in their fast attacks. Thus, the Lions continued to pull away, and at the beginning of the fourth quarter, the Bamberg deficit was 22 points (57:79). Brandon Tischler, a native of Bamberg, of all people, netted the three-pointer to close the gap. But that the morale in the Bamberg team is intact was shown by the strong comeback that the Roijakkers boys undertook after a timeout: Justin Robinson (14 points) and Patrick Heckmann cut the deficit to 63:79 with three-pointers, center Martinas Geben (14 points) and top scorer Christian Sengfelder (24 points, 10 rebounds) melted the gap further, Robinson brought Bamberg to 83:88 with his three-pointer and free throws 50 seconds before the end. But the playmaker lost the ball in the next attack, Braunschweig converted 26 seconds before the end to 83:90, the decision.
Johan Roijakkers (head coach Brose Bamberg): "We had two phases at the beginning of the game and right after halftime when our defense was not right. That was the sticking point. It wasn't all bad, though. The rebounding was good in front and behind. But if you want to win away from home, just 20 minutes of good defense is not enough."
On October 31, 2021, Brose Bamberg will host German champion Alba Berlin at Brose Arena: Roijakkers' team can prepare for the game starting at 6 p.m. all week, while Alba is challenged twice in the Euroleague during the week.