Bamberg
Basketball Bundesliga: Brose Bamberg celebrates first home win of the season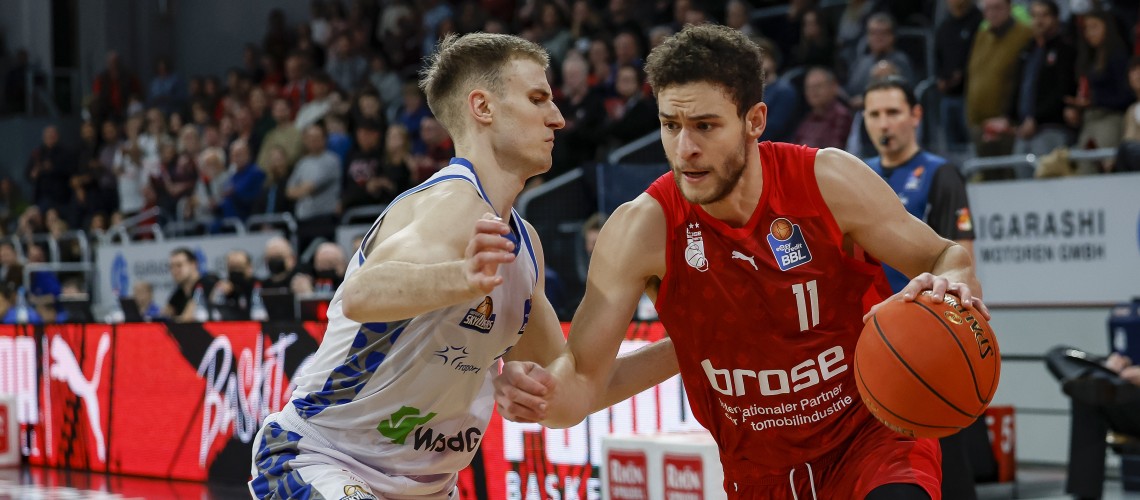 Bamberg, 11-19-2022
Brose Bamberg has never had to wait this long: on game day seven of the Basketball Bundesliga, the seventh home game of the season across all competitions, the first success in the Brose Arena was finally achieved: in a 100:83 win over the Fraport Skyliners, the Amiel team showed what it is made of, especially in the second quarter.
During the almost two-week break for the national team, Brose Bamberg started to rebuild its squad. Playmaker Patrick Miller joined the team, the 30-year-old already knows the Bundesliga from his time at ratiopharm Ulm. Already in the first quarter, this castling by coach Oren Amiel paid off: Miller directed offensively with a lot of confidence and overview. With his explosive move to the basket, the American tore gaps in the Frankfurt defense several times and instead of finishing with a basket shot, he threw the extra pass outside to the free three-point shooters. Three fine assists according to this pattern led to three threes, Kevin Wohlrath and Patrick Heckmann netted them for a 25:21 lead for Bamberg. The home side started the second quarter with a strong 10:0 run.
In the third quarter, the Bamberg lead settled at 20 points, the home side did only what was necessary after 72:48. Promptly followed the penalty by the Frankfurt, 6:15 run until the end of the quarter, until the middle of the final quarter, the Hessians even came to 86:79. But two three-pointers by top scorer Sengfelder and Bohačík put the brakes on Frankfurt. Despite a much improved performance at the front and back, Brose Bamberg must be more attentive and patient, especially in the final quarter.
Oren Amiel (Head Coach Brose Bamberg): "I could analyze a lot now, but in the end the most important thing is that we won. It was a win we really needed. We felt the pressure, so we were a bit nervous in the meantime, made wrong decisions."
Already on Wednesday, November 23, 2022, the Amiel team is challenged again: after two home losses in the FIBA Europe Cup, a win is needed against league leader Hapoel Galil, otherwise the chances of advancing to the next round dwindle.
For more information, visit www.brosebamberg.de and www.easycredit-bbl.de.