Bamberg
Basketball Bundesliga: Brose Bamberg's defeat overshadowed by injury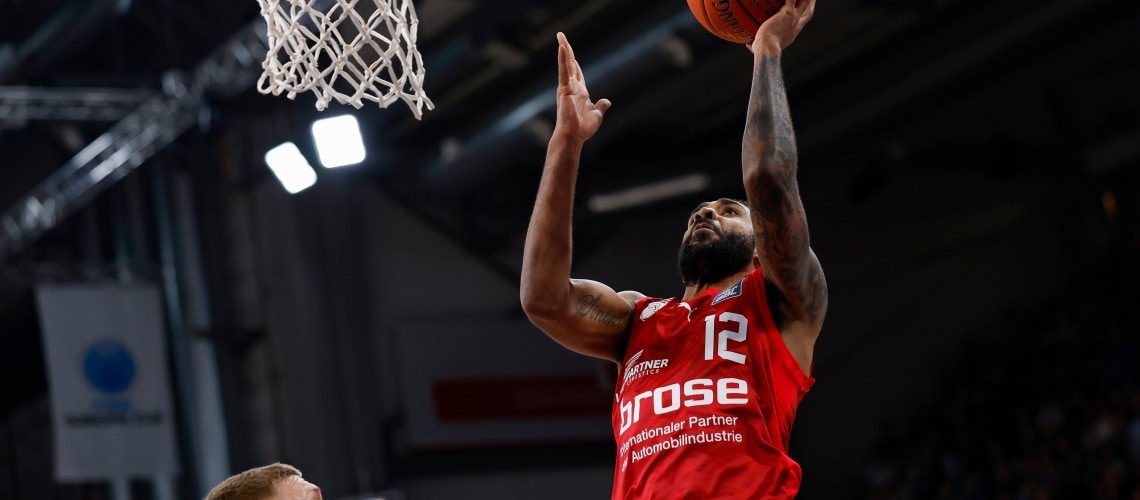 Bamberg, 03-18-2023
Double setback for Brose Bamberg: after five Bundesliga wins in a row, coach Oren Amiel's team suffered an 88-94 defeat against the Rostock Seawolves. However, the loss of Amir Bell weighed much more heavily.
The Hanseatic city scored in nine of their first ten attacks, already led 9:22, when the biggest shock happened for the Bamberg team: Amir Bell slammed his leg into the Rostock player while interfering with the setup man JeQuan Lewis and was immediately laid up. The defensive specialist was immediately taken to the hospital and is out until further notice with a fractured tibia. Rostock subsequently increased the lead to 13:28 before the Bamberg team was better able to assert itself against the overly tough defense of the guests. Bamberg caught up to 27:30 with an 11:0 run spanning the entire quarter, and playmaker Patrick Miller cut the deficit to 40:41.
Across the break, Rostock managed an 0:8 run there, leaving Bamberg trailing 41:52. After 17 points in the first half, Jaromír Bohačík cooled off a bit with just one basket, but Gerel Simmons, who had been subbed earlier, stepped into the breach: the playmaker netted three three-pointers and two baskets in the third quarter, and with eight of those points, Simmons turned a 57:66 deficit into a 67:67 equalizer within 150 seconds before quarter four. Solomon Young dunked for Bamberg's first lead, top scorer Jaromír Bohačík increased it to 78:74. A 0:6 foul record in the final quarter and the technical foul against top scorer Jaromír Bohačík, who tapped the ball behind the baseline after the 86:88 basket, did not exactly show tact on the part of the referees. Rostock used this fifth foul against Bohačík 90 seconds before the end to decisively pull away to 86:91.
Oren Amiel: "Rostock started well, had a lot of confidence and controlled the game, even though we came back. They deserved the victory. But honestly: the game doesn't interest me at all right now. My thoughts are with Amir. I sincerely hope he will get over the injury."
Already on Wednesday evening, 22.03.2023, the next duel against a playoff competitor is on the agenda for Brose Bamberg: starting at 7 p.m., the Niners Chemnitz are the guests in the Brose Arena.
For more information, visit www.brosebamberg.de and www.easycredit-bbl.de.