Berlin
Basketball Bundesliga: medi bayreuth loses to Alba Berlin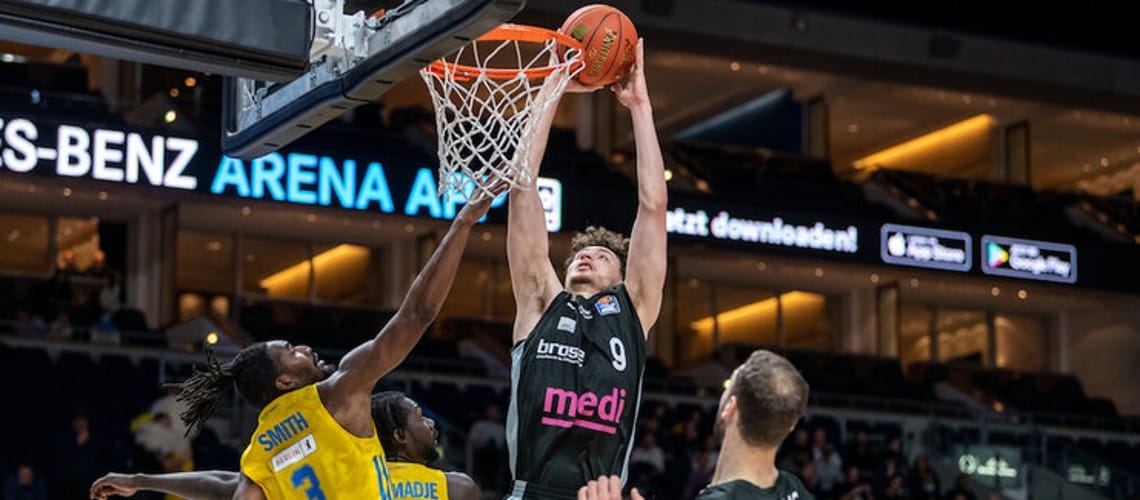 Berlin, 04-04-2022
In the match of the 28th matchday in the easyCredit Basketball Bundesliga, medi bayreuth gave the reigning champions and cup winners a great fight in their guest game at Alba Berlin. However, what happened from the 32nd minute of the game onwards is inexplicable. While the home side put another 32 points on the scoreboard by the end of the game, Bayreuth had zero.
At the beginning of the game, both teams struggled offensively. Berlin, however, found its usual throwing rhythm a little quicker and was able to take a 15:7 lead after a good 8 minutes. After initial difficulties, medi also gradually got on track offensively and managed to keep the deficit within three points (15:18) after the first ten minutes.
In the second quarter, Bayreuth were more present under the basket and defended the Alba inside plays more effectively. As medi now also found its rhythm on the offensive end, it didn't take long for Bastian Doreth, with a successful basket, and Sacar Anim, with a pull-up jumper, to equalise the score. Emblematic for the course of the game was the last second of the first half, when Johannes Thiemann returned the lead to ALBA (38:35) with a successful three-point shot just before the halftime siren.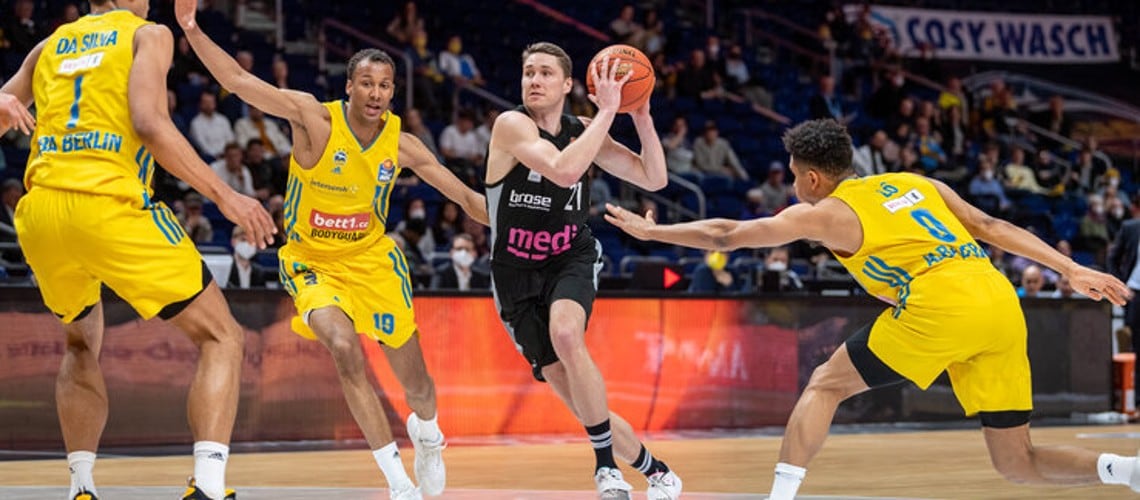 "The same procedure as every quarter", one could almost assume, because in the third period, too, the start belonged to the home side, who quickly pulled away with a 9:0 run to 49:38. As the inside points were missing on Bayreuth's side, the game did not want to tip in favour of Head Coach Raoul Korner's team in this phase either, so that medi went into the last quarter with a narrow 49:52 deficit and still had a real chance of winning.
However, that chance soon came to an end. With four points at the beginning, Bayreuth were still promisingly in the race at 53:55. But from that point on, medi bayreuth could do nothing and those four points were to remain the only ones in the entire final period for Head Coach Raoul Korner's team. An incredible 32:0 run for the reigning German champions made the first really good 30 medi minutes of the game completely forgettable and paved the way for ALBA to a deserved 87:53 home victory.
"We played good basketball for three quarters. It was solid, but then in the last quarter we had three lapses of concentration, threw the ball away and let ALBA get going that way. Then we didn't score anything anymore. So everything that we did well over three quarters was then completely lost in just one minute," commented Raoul Korner (Head Coach medi bayreuth).
The next game for medi bayreuth is already next Saturday. The 29th matchday in Bayreuth's Oberfrankenhalle will be hosted by their Franconian opponents, s.Oliver Würzburg.
Source: www.medi-bayreuth.de