Coburg
Basketball: Energetic Ehingen team brings BBC to its knees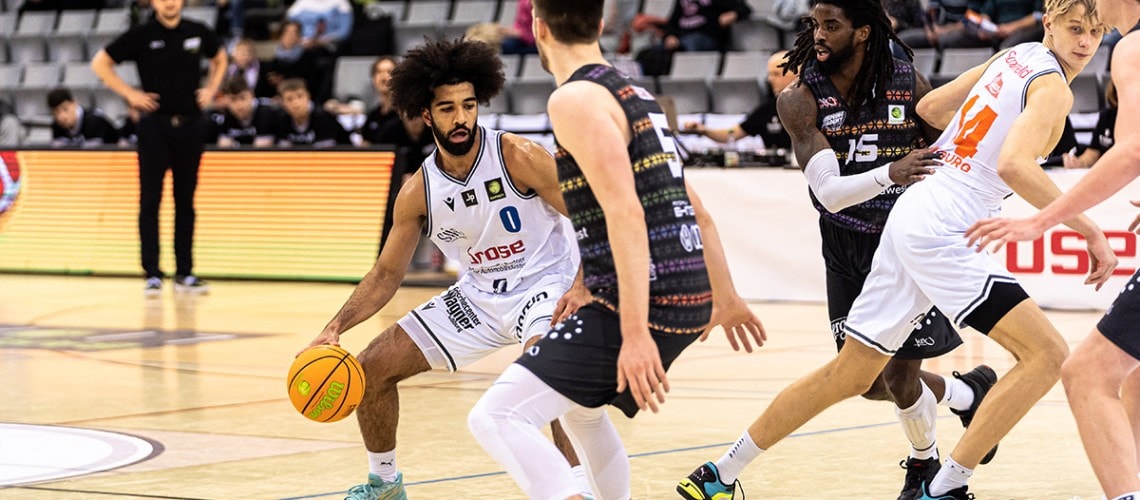 Coburg, 02-04-2023
On the 18th matchday of the BARMER 2nd Basketball Bundesliga ProB, BBC Coburg lost to Team Ehingen Urspring 69-82 on Saturday evening. The Swabians went at it spiritedly from the start and wrestled the points away from the Vestädtern with high intensity on the defensive end. With 19 points each, Moritz Heck and Vincent Neugebauer from Ehingen led their team to victory.
High tempo and aggressive full-court press in the defense determined the number of blows. At first Coburg kept up well, in the first half the lead changed nine times. Milan Suput and Adrian Petkovic started the game with quick points for the home side, while Zacek and Neugebauer answered for the visitors. Five three-pointers in the first quarter guaranteed that the Upper Franconians could keep up.
A completely different picture emerged in the second quarter. For the Coburg team, who were always looking for their luck through distance shots, the basket was now as if barricaded. Blunt only scored once more from downtown at the start of the period, but Coburg struggled on the offensive until the break. Ehingen gained the decisive advantage, they outscored Coburg 19:11 in the second period.
In the process, the guests had to do without their top scorer André Nation from the 16th minute of play. The US American was substituted with a contorted face and subsequently treated in hospital. Nation had twisted his ankle away from the action and immediately signaled that he could not continue. At that point, he had chipped in 15 points and six rebounds for his team.
The Swabians continued exactly where they had left off. Ehingen often simply had their hands up more, Vincent Neugebauer collected 13 rebounds, in total Ehingen grabbed 21 boards more than Coburg. Even technical problems with the scoreboard, which caused the match to be interrupted twice in the third quarter, could not upset the "Team In Green" on this evening.
The Swabians successfully managed the 13-point lead after the third quarter until the final buzzer. Coburg got back into their stride offensively, and after a Bulic basket, the hosts cut the deficit to 57:65, prompting Ehingen coach Oliver Heptner to call a timeout. Ehingen always found the right answers in the final phase, exemplified by Moritz Heck, who shot two three-pointers into the heart of Coburg within 50 seconds.
BBC captain Sven Lorber was sorry with the performance of his team. "Today we have to take ourselves by the own nose. We have to defend the throws of Ehingen better," explained Coburg's guard immediately after the game. In addition, we have to be more alert with the rebounds and not stiffen on the threes in the offense, added the 25-year-old.