Bayreuth
Basketball: Highly deserved home win for BBC Bayreuth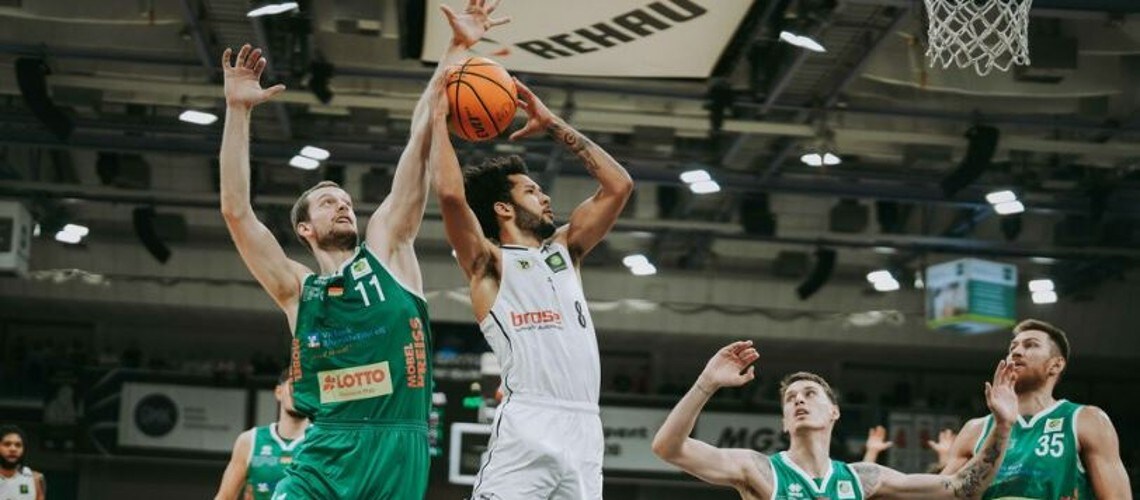 Bayreuth, 10-07-2023
BBC Bayreuth celebrated a superior 97:72 victory against promoted EPG Baskets Koblenz in their first home game in the Second Basketball Bundesliga Pro A.
BBC Bayreuth started the game with Shane Gatling, Selim Fofana, Marco Rahn, Aaron Carver and Lenny Liedtke in the starting five. Lenny Liedtke ran hot in the first minutes and scored two threes to make it 6:2, another long distance goal by Shane Gatling made it 11:4 for the hosts in the meantime. Koblenz then came close in the aggressively played game, after a three-pointer by Rytis Pipiras it was only 11:10 for Bayreuth. In the end, it was 22:18 for the hosts after the first quarter.
In the second quarter, the BBC maintained their lead and extended it further. A good three minutes before half-time the score was 41:29, Bayreuth convinced with a very good defence, which often forced Koblenz to make bad throws. A three-pointer by Marco Rahn made it 44:29, then Koblenz came back to within 13 points at the break.
Selim Fofana, one of Bayreuth's most eye-catching players, put the BBC ahead 52:35 early in the second half, followed by two free-throw shots by Aaron Carver to make it 54:35. A dunk by Aaron Carver to make it 56:35 put Bayreuth ahead by more than 20 points for the first time. The 2,649 spectators in the Oberfrankenhalle saw inspiring basketball. The score was 60:37 halfway through the third period, and after a three-pointer by Marco Rahn to make it 65:39, the decision was practically made. At 69:39, the lead had grown to 30 points. The score was 73:45 after 30 minutes, Bayreuth had won the third quarter with 26:11.
In the final period, the BBC managed the victory and the fans saw some nice moves. The Bayreuth team showed a very balanced team performance. The score was 86:57 after Kristian Sjolund's fourth three-pointer. Kristian Sjolund also scored a spectacular dunk to make it 90:61. In the last minutes, head coach Mladen Drijencic also gave some time to the younger players. In the end, Bayreuth won 97:72, a well-deserved and fair victory.
"The team showed an excellent performance today, that applies to all aspects of the game. They played with concentration for the entire 40 minutes. The pressure was kept up and we allowed the opponent very few offensive rebounds. Besides the win, it was important that our quite young team also took another developmental step in terms of basketball culture," says BBC head coach Mladen Drijencic about the first home win of the season.