Bayreuth
Basketball: medi bayreuth wins against MBC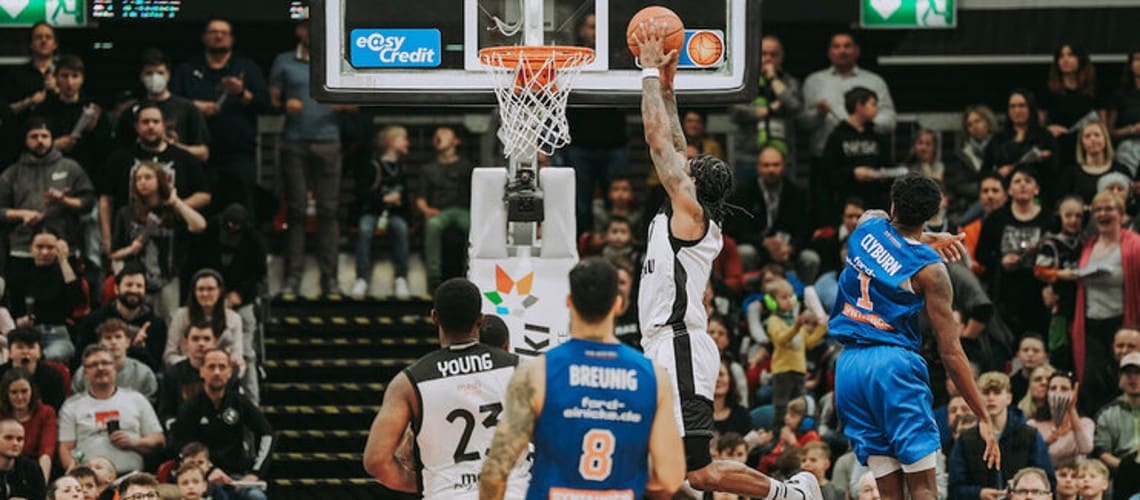 Bayreuth, 04-02-2023
The upward trend of the last weeks at medi bayreuth continues. On Sunday afternoon, Head Coach Mladen Drijencic's team defeated the SYNTAINICS MBC with 95:84 and was thus able to celebrate its 5th win of the season.
With two missed free throws, medi started the game a bit cautiously, but when Otis Livingston II started the initial spark with the first Bayreuth points of the evening, the engine of the medi game started rolling. A 10:0 run, sealed by a successful three-pointer by capitano Bastian Doreth, not only brought the hall to a boil for the first time, but also caused both teams to call time-outs. After that, the Weissenfels team found their way into the game a little better, but a brilliant Otis Livingston had something against the Wolves' race to catch up and got his team back on track. Since medi was a united team in both defence and offence, they were able to end the first quarter with a nine-point lead.
In the second quarter, the Wolves fought back with an 11:0 run and even had the chance to equalise in the 13th minute, but Radii Caisin missed the free three-point shot. Instead, medi now became stronger again offensively and was also able to get needed stops on defence. After Nat Diallo's poster dunk put the lead back into double figures, some fans were already feeling safe, but the Wolves proved everyone wrong, fought their way back, especially thanks to a strong Kris Clyburn, and were able to reduce the deficit to 45:52 by the break.
Even after half-time, the game was anything but decided. Again and again, the Wolves came dangerously close to medi and tried it from all positions. But it was Kresimir Nikic under the basket, who more or less eliminated John Bryant, or Otis Livingston in attack, who clearly won the playmaker duel against Scottie Reynolds. Head Coach Mladen Drijencic's team kept the upper hand even in difficult phases and went into the last quarter with a narrow 71:68 lead after a tough fight.
However, the visiting coach was unable to find a miracle weapon against a united and strong medi team and the synergy effect fans team, so that medi deserved their second victory in a row and defeated the SYNTAINICS MBC with 95:84.
Mladen Drijencic: "It was a very intense and important game for us. We were able to take the lead quickly, which was extremely important for us mentally. We were fortunately able to continue the run we started against Oldenburg today."
The team's schedule now continues in quick succession. On Wednesday, 5 April, Bayreuth will host HAKRO Merlins Crailsheim in the Arena Hohenlohe for a make-up game of the 22nd matchday. Jump to the duel against the magicians is at 7 pm.