Ehingen
Basketball Pro B: Season start successful - BBC Coburg wins in Ehingen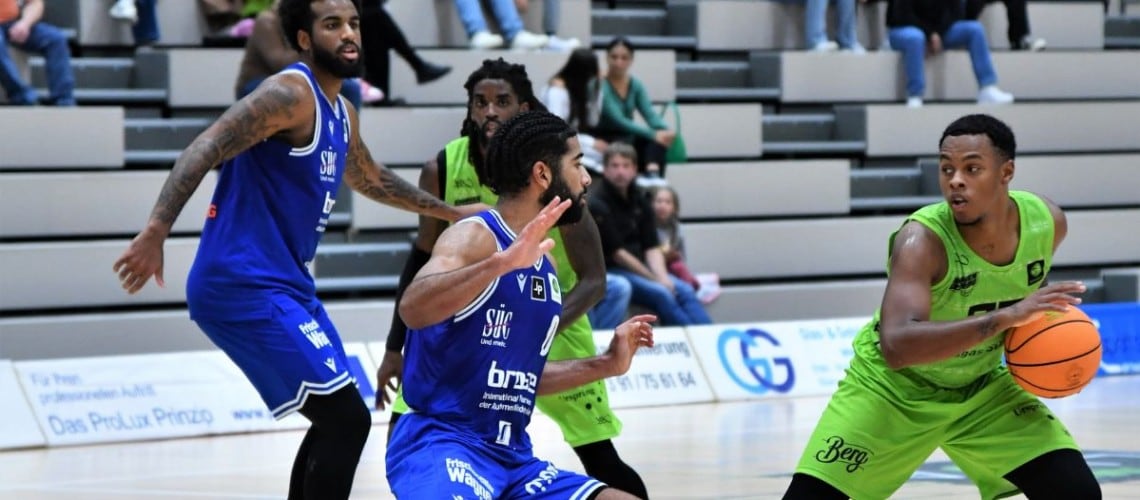 Ehingen, 10-01-2022
BBC Coburg celebrated a successful start to the season in the BARMER 2nd Basketball Bundesliga Pro B last Saturday evening at Team Ehingen Urspring. The Veststädter won with 76:85.
The BBC got off to a promising start and was able to quickly pull away to 4:14. Ehingen coach Johannes Hübner pulled the ripcord early and wanted to talk to his team. After the timeout, the tide quickly turned and the Ehingers were able to sort themselves out defensively. They also dominated the offensive boards and repeatedly found Andre Nation, who was able to finish safely. With a three-pointer by Delgado, the Swabians leveled the Coburg lead. The Vestädter took a narrow 22:21 advantage from the first period.
In the second period, however, the home side was able to equalize again after a technical foul by Blunt and shortly after took the lead for the first time with a three-pointer by Delgado. Defensively, however, the Upper Franconians failed to keep Andre Nation in check. The US American scored 18 points by the break. At 51:43 from Coburg's point of view, the first half was over.
The Coburg team missed the start of the second half, which forced Jessie Miller to call a quick timeout. BBC gave the ball away carelessly on offense and was unsorted on the defensive end. With a smaller rotation on the court, things didn't go any better for the BBC towards the end of the period. Nation again contributed ten points for Team Ehingen Urspring and the hosts took a five-point lead into the final period. The Coburg team went down 23:10 in this quarter.
Both teams struggled in the final quarter, but the Coburg team held on sacrificially and did not let the "Team in Green" pull away. After a dunk by Bulic on a pass from Carrasco, the BBC regained the lead at 68:69. Afterwards, young Suput made the Ehingen defense look old and went up for the Upper Franconians. With two and a half minutes on the clock, the guests led by eight points. 30 seconds before the end, the fair was read and the first away victory for the BBC Coburg in dry cloths.
"We moved the ball well in phases today already and exerted pressure on the defensive end, but at times we were still weak on the defensive end. Ehingen did a good job and they were able to put us in trouble," Jessie Miller analyzed the encounter. However, the Texan went on to say that they could build on their performance in the last quarter.
In the first home game of the season, BBC Coburg will face EPG Baskets from Koblenz next Sunday.
Source: www.bbc-coburg.de