Coburg
Basketball: Resilient Coburg Team defeat Ehingen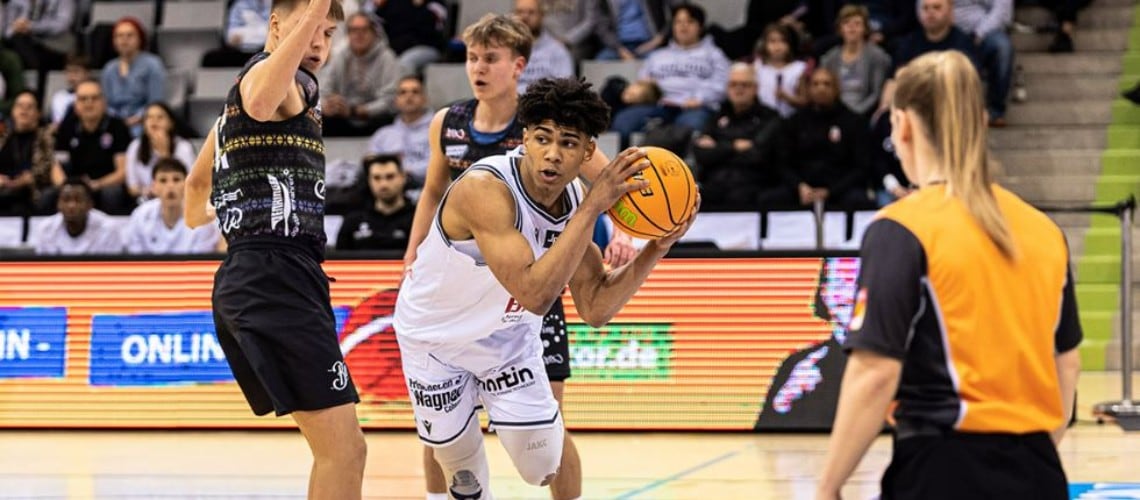 Coburg, 10-29-2023
BBC Coburg beat TEAM EHINGEN URSPRING 86:78 on matchday 6 of the ProB Süd and now stands at three wins from six games. BBC's top scorers were power forward Kolten Mortensen and point guard Adrian Petkovic with 21 points each. Petkovic, who was celebrating his 19th birthday at the same time, scraped at a double double with nine assists.
Head Coach Patrick Seidel: "Of course we tried to minimise the number of turnovers again, and we managed that much better in the second half because we simplified one or two things and found our rotation. In the first half, we had to try a few things because it went back and forth a bit in the training week, also with illnesses and so on. Danas Kazakevicius, for example, couldn't play today either. But I think we just did a good job in the second half. The boys definitely proved that they could approach the game with energy today. Overall I'm quite happy with the boys, we got a lot from the young players today as well and in the end we played with intensity and confidence above all, that's the most important thing."
After a balanced first half that was mainly characterised by mistakes, the score was 35:35 going into the second 20 minutes. There, it was initially the Coburg team that got off to the better start before the team from Ehingen countered with a 9:0 run. After that, however, the Kolten Mortensen show started in the offensive. The power forward from Coburg hit four threes in the third quarter and ensured that the BBC went into the final and decisive period with a narrow 61:58 lead. At no point did the Coburg team relinquish the lead. A three-pointer by David Gerhard and a subsequent And One by Yurii Kondrakov gave the BBC an eight-point lead five minutes before the end, which they did not allow to be taken away in the remaining time of the game.