Coburg
BBC Coburg marches purposefully to derby victory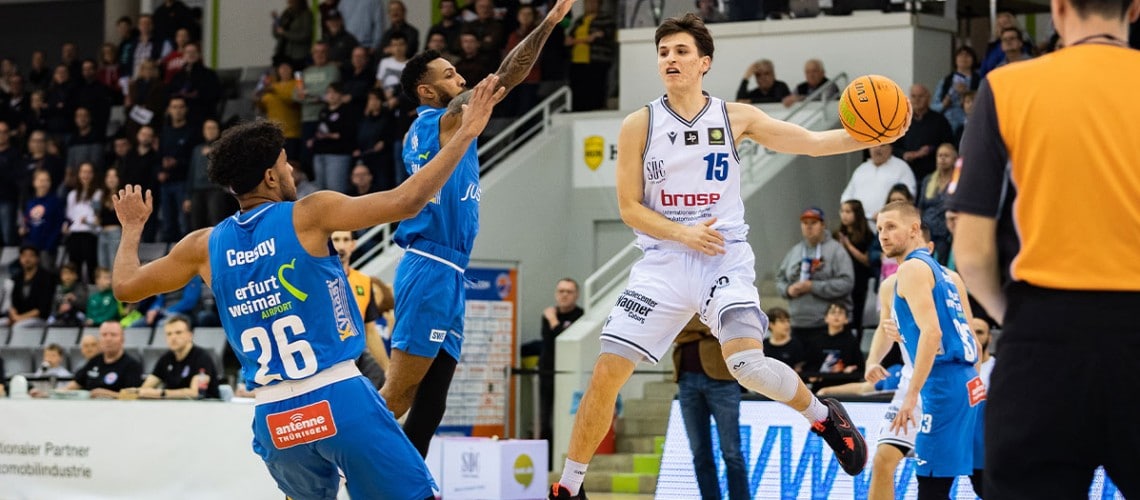 Coburg, 01-21-2023
With a concentrated performance, BBC Coburg secured the derby victory against Basketball Löwen Erfurt on Saturday evening. In the BARMER 2. Basketball Bundesliga ProB the Vestädter won with 84:64 against the table tenth from the Thuringian capital. The best thrower in the match was Erfurt's Guy Edi with 20 points. Leon Bulic led the Coburg team in points, scoring 19.
In his second home game as BBC head coach, Milos Petkovic sent Sven Lorber, Milan Suput, Adrian Petkovic, Leon Bulic and Lucas Wobst onto the court from the start. Erfurt started with Lyles, Edi, Kamdem, Heber and Ceesay and took the lead for the first time with a three-pointer by Edi. The ex-Erfurt player in the service of BBC, Lucas Wobst, equalized after two and a half minutes to 5:5.
Shortly after, he was then replaced by BBC top scorer Tyreese Blunt, who surprisingly came off the bench and scored only ten points. The home side took control and extended their lead to 12-7 with a three-pointer from Bulic. With a three-point play by Kamdem, Erfurt kept pace and the Lions equalized again shortly after.
It was obvious to the guests that they did not want to let the clear defeat in the first leg sit on their hands, and the match got off to a fiercely contested start. The numerous Erfurt fans who had come along also supported their team loudly. By the end of the opening quarter, Coburg had built up a 27:21 lead.
The back and forth continued in the second period. Farenhorsts cut Coburg's lead short with a successful three-point play. BBC responded coolly and answered by hitting free throws by Blunt. Bulic then ran hot and the hosts started a run, which Adrian Worthy capped with a three-pointer to make it 41-26. Towards the end of the first half, Erfurt got back into their stride and cut the gap to 46:32 by the break.
After many attempts, the BBC then managed a successful start to the third quarter. In the previous encounters, the Vestestädter often struggled here and had to accept runs from the opponent. The situation was different against the Cathedral City team: with a lay-up by Lorber, Coburg extended its lead to 19 points. The Coburg lead leveled off in the twenties and the match lost some of its intensity. At 67:50 it went into the last quarter.
Considering the clear Coburg lead, the fire did not return in the fourth. Erfurt needed five minutes in the quarter to get to a point for the first time through a free throw by Edi. The home side was only marginally more effective, scoring four points in that span. Sven Lorber stepped up once more with a three-pointer before being substituted after a strong performance with nine points, eight assists and 35 completed minutes of play.