Ulm
BBC defeats Ulm 58:53 on the road for first win of the season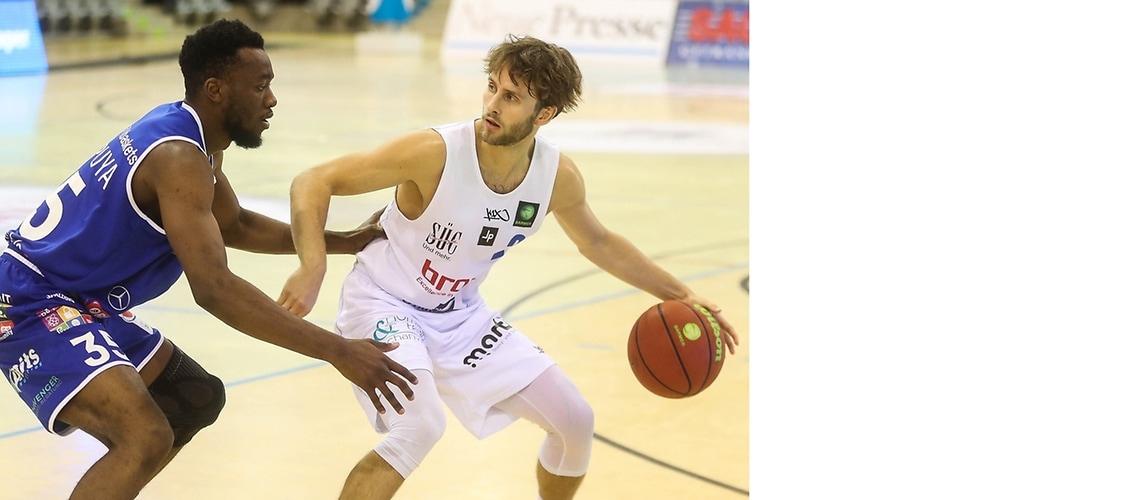 Ulm, 10-19-2019
The spell is broken in the BARMER ProB South 2nd German Basketball League. On the fifth game day, BBC Coburg notched up its first victory of the season by defeating OrangeAcademy in Ulm by 58:53 (33:24). The visitors from Upper Franconia were in front for almost the entire encounter against the reserve side of the German first-division club ratiopharm ulm, but things got extremely tense at the death.
It was a hard bit of work for Head Coach Ulf Schabacker and his players in Ulm's Kuhberghalle: After a shaky start, the BBC was able to open up a gap for the first time after a run of nine points without reply and led by 14:4 midway through the first period. Things ticked over smoothly for it in offense and defense in this spell, and Christopher Wolf and his teammates went 22:14 in front by the end of the first quarter.
However, the encounter then became more and more scrappy: Coburg added just seven points in seven-and-a-half minutes, but Ulm only managed the same number too (29:21 in the 18th minute). Yet although both sides then slackened a little in offense, the BBC managed to maintain its lead and take a 33:24 advantage in at half-time.
It also got off to a successful start after the break with a 10:4 run to stretch the gap to 43:28 in the 26th minute. Yet the 15-point lead was no cushion: The team of Head Coach Anton Gavel clawed back point after point, cut the deficit to 48:42 by the end of the third period, and so ensured a thrilling final quarter.
And things got tight: After Sven Lorber made it 55:50 going into the final minute, Ulm was able to snap up two offensive rebounds and then, at the third attempt, add a three-point play to cut Coburg's lead to two with 35 seconds left on the clock. Moreover, the BBC's forward Princeton Onwas fouled out and so could play no further part.
Yet Coburg then kept its cool: Whereas Christopher Philipps made four free throws for the club from Swabia, Wolf scored for the BBC, followed by Timo Dippold – and so BBC Coburg was able to jubilantly celebrate its first victory of the season.
"We defended very well and so prevented Ulm from getting into the game. Sven Lorber and Princeton Onwas made very important points in the decisive phase, but all in all we're still too inconsistent in offense," said the BBC's Head Coach Schabacker. He was not fully satisfied despite the win, but also showed a lot of understanding for his players: "After four defeats, it's difficult to feel confident in attack, so we won by displaying energy and fight in defense. That's what counts." Schabacker singled out Timo Dippold for praise: "He really gave all he had today." The Head Coach and his team are already looking ahead to the next opponent: "We're now focused fully on Erfurt and aim to capture our first home win next weekend."