Bamberg
Brose Bamberg back in a playoff berth after home win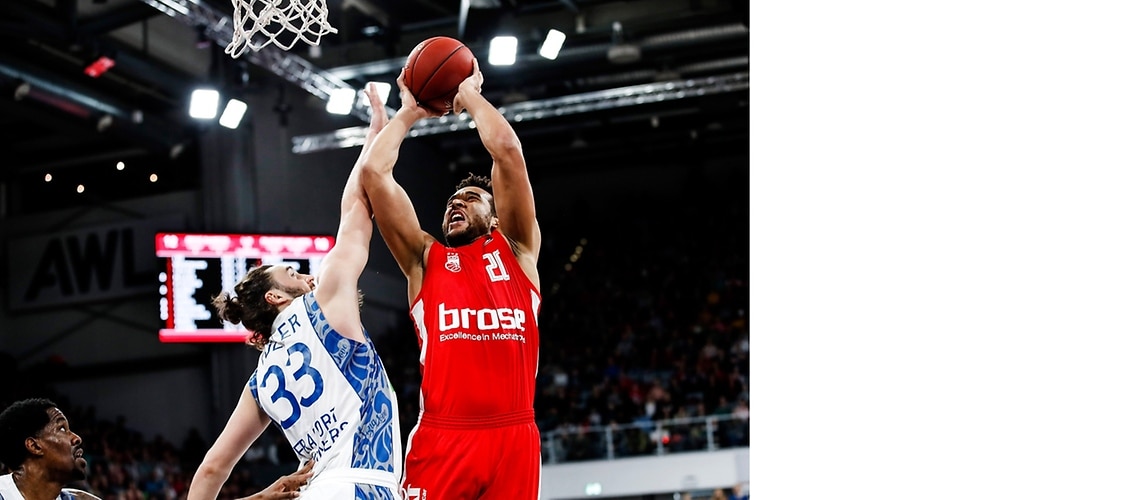 Bamberg, 02-02-2020
Brose Bamberg has returned to the playoff spots in the German Basketball League after its second win in a row. The 87:76 home victory over Fraport Skyliners Frankfurt means Bamberg is now eighth, level on points with Vechta and Würzburg, while fourth-placed Oldenburg has just one win more.
Although Frankfurt was without three key men in its starting five – the former Bamberg player Leon Kratzer, Lamont Jones and Richard Freudenberg – it made life difficult for the club from Franconia to begin with thanks to its fight and energy. Moreover, too many Bamberg players failed to make a mark: Playmaker Paris Lee and Tré McLean did not take a single shot before the break, the weak Darion Atkins missed three attempts and did not get on the scoreboard, and Assem Marei scored just one lay-up and snapped up a meager two rebounds. Indeed, Bamberg did not drain a single bucket from downtown in the first half. However, Elias Harris and Louis Olinde stepped up the plate and made eight points apiece. Head Coach Roel Moors brought on the youngster Mateo Seric shortly before the break and the 20-year-old power forward added two lay-ups in Bamberg's short run that helped reduce the deficit from 33:38 to 38:39 at half-time.
Bamberg finally played with greater energy and pace after the break and, in particular, Paris Lee and Tré McLean increasingly found their range: Playmaker Lee (11 points) drained two threes right after the restart to put his side 44:42 ahead. McLean (13 points) then ran into top form with his side trailing 44:47 and made three out of his four attempted threes – all of them after being set up by Elias Harris – in the space of 130 seconds to put Bamberg 53:49 in front. And since Harris himself notched up a high scoring percentage (nine out of 12) in addition to his total of seven passes, the home side was able to open up a 65:56 gap shortly before the end of the third period. After two more buckets by Mateo Seric (8 points) and nine points by Elias Harris, Bamberg – as so often in recent games – went into crunch time with a double-digit advantage (76:66). For two minutes, it seemed as if the home side would yet again squander its lead, as three attacks failed to add any points and Frankfurt cut the deficit to 76:72. After two free throws by Elias Harris to make it 80:72, however, Paris Lee took the game by the scruff of its neck, adding a mid-range shot (80:74) and then a three to give his side a decisive 83:74 lead with 70 seconds left on the clock. Top scorer Elias Harris (25 points!) deservedly added the final points to make it 87:76.
Roel Moors, Head Coach of Brose Bamberg, commented: "It was a good win for us. We still lacked a bit of rhythm in the first half. We wanted to switch a lot, but we were often too slow. We played with far more energy after the break. We only took four threes in the first half. We were able to improve our 3-point field goal percentage in the second half and make seven out of 11. Our better rhythm in the second half was the crucial aspect that helped us win today."
Brose Bamberg now plays its final game in this season's Champions League tomorrow, Tuesday, February 4, 2020, at home against top-of-the-table Iberostar Tenerife (tip-off: 6:30 p.m.).
For more information visit www.brosebamberg.de, www.easycredit-bbl.de and http://www.championsleague.basketball/de.