Vechta
Brose Bamberg loses after weak third period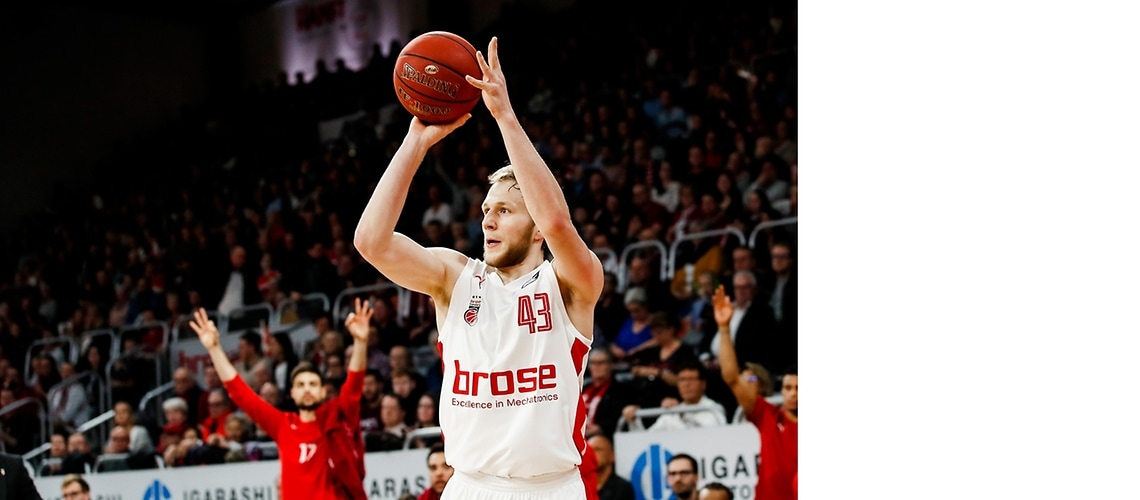 Vechta, 02-08-2020
Brose Bamberg suffered its eighth defeat of the season in the German league by 66:80 in an encounter in which none of its players produced a strong display. The players of Head Coach Roel Moors were completely out of sorts, in particular after the break, and lost the third period by 10:28. Brose Bamberg is currently eighth in the table and so in a playoff spot, but can be ousted from that by Ulm, which is chasing on its heels and has played two games fewer.
From the outset, Vechta forced Moors' team to concede turnovers as it built its moves. Bamberg committed a hefty seven mistakes in the first period, but was able to compensate for that thanks to five buckets from downtown by Nelson Weidemann, Louis Olinde, Paris Lee, Retin Obasohan and Bryce Taylor. It therefore trailed by just 21:22 at the end of the first quarter, and then Darion Atkins even put it ahead with five straight points at the start of the second period (26:24). Yet it was again steals and fast attacks by the home side that caused Bamberg to slip behind (26:32). However, Bamberg now tightened up its defense and prevented Vechta from scoring for two minutes, enabling the two top scorers Christian Sengfelder (10 points) and Elias Harris (8) to give the visitors a 37:36 advantage at half-time.
Christian Sengfelder made it 39:38 after the break, but that was followed by eight very bitter minutes for Moors' players: by the time Bamberg added its next points through Elias Harris, the home side had surged ten points in front (39:49) – Vechta chalked up nine points from the foul line alone and so almost as many as the ten Bamberg scored in the entire period. In the second half, Bamberg was always a step too slow in defense and often had to resort to fouls to stop the opposing side. The upshot: Vechta added 21 free throws (out of 25 attempts) – while Moors' team earned just nine and drained a meager four of them. With one minute left in the third period, Vechta had produced a 4:26 run to storm 43:64 ahead – and the game was over and done, despite Elias Harris' two lay-ups to make it 47:64 at the end of the quarter. Vechta maintained the 20-point gap up to midway through the final period (52:72), after which Christian Sengfelder and Bryce Taylor (8 points) with a three apiece and Nelson Weidemann with two lay-ups were able to reduce the deficit to 63:74. However, Vechta did not give its opponents a look-in in the 80 seconds remaining.
Roel Moors, Head Coach of Brose Bamberg, commented: "Rasta got off to a good start to the second half and we didn't have the mental strength to find our game. We forgot everything we had talked about beforehand. We knew Vechta plays very aggressively. But we weren't able to match that aggression. You only need to look at the free throw statistics: 25 attempts for Vechta, nine for us. That says a lot about our lack of aggression."
Brose Bamberg now hosts Hamburg Towers, the league newcomers who are facing relegation, tomorrow, Tuesday, February 11, 2020. Moors' team strolled to a 89:59 victory in the encounter between the two in Hamburg at the end of October.
For more information visit www.brosebamberg.de, www.easycredit-bbl.de and http://www.championsleague.basketball/de.