Munich
Brose Bamberg loses narrowly to favorites Alba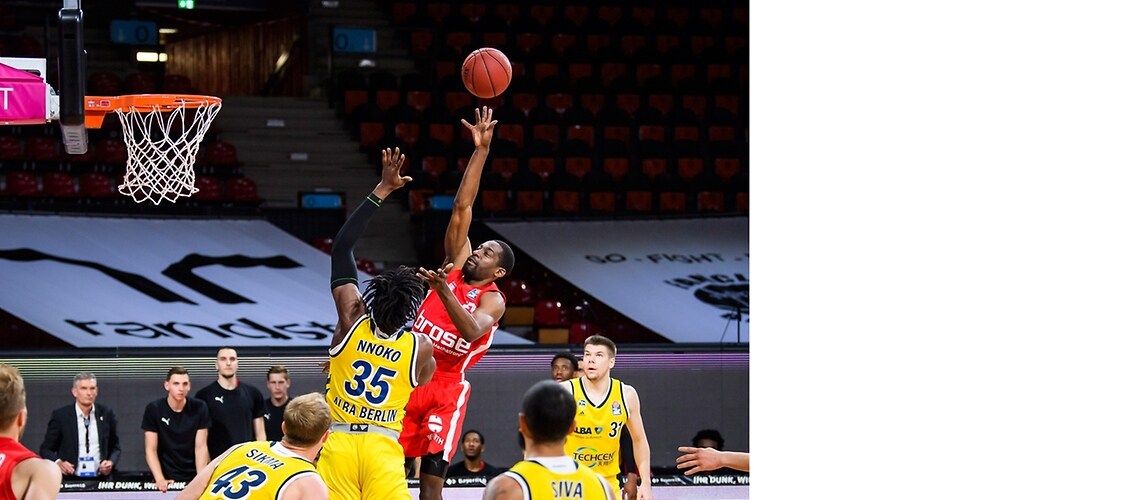 Munich, 06-10-2020
In this form, Bamberg can achieve quite a bit in the Final Tournament of the easyCredit German Basketball League in Munich's Audi Dome: In its opening game of the tournament, the team of Head Coach Roel Moors produced one of its best performances of the season against Alba Berlin, but finally succumbed by 91:97 – also due to a controversial offensive foul awarded against top scorer Jordan Crawford shortly before the end.
Unlike other teams, Brose Bamberg can call on all its professionals in the Final Tournament and is only missing Bryce Taylor and Louis Olinde, who are recovering from injury. Alba Berlin began by draining three buckets from downtown to leave the club from Upper Franconia trailing by 8:20 after five minutes. Roel Moors made some changes and put a small formation on court with playmaker Retin Obasohan and the committed and courageous youngsters Mateo Seric and Marvin Heckel to toughen up the defense. The plan worked out: Bamberg made four steals at the back and in particular Obasohan (13 points) capitalized on his speed and finished his side's swift storming attacks reliably to add eight points. His three-pointer put Bamberg ahead for the first time (25:24). Bamberg also displayed a lot of heart and intensity in the second period: The bench celebrated successful actions passionately and fired on the five players on court vociferously. Jordan Crawford picked up where he had left off in his 23-point game in Würzburg before the enforced break due to coronavirus, was in dependable finishing form and buried a bucket from beyond the arc to give Bamberg its highest lead (41:36). Bamberg was a match in almost every department at that stage and it was only its weaker 3-point field goal percentage that prevented it from leading by a wider margin than 56:55 at half-time.
Bamberg extended the gap to 62:58 after the break. Berlin responded with far tougher play below Bamberg's basket, snapped up too many offensive rebounds and made too many easy buckets, with the result that it had turned the tables by the end of the third period (72:75). Bamberg put up stiff resistance and Kameron Taylor (11 points) drained two threes to put his side 83:80 ahead, but then Berlin likewise struck back with two buckets from outside (85:91). The decisive scene occurred with 93 seconds left: Top scorer Jordan Crawford (20 points) stole possession from Berlin's Luke Sigma, drove through its defense and scored with a floater – but instead of the points counting and the deficit being cut to just 91:93, the referees called an offensive foul against Crawford, the American's fifth. Without the former NBA player, Moors' team lacked a key option in offense against Berlin in the final seconds and only Elias Harris (16 points) was able to add points to make the final score 91:97. Nevertheless, Bamberg is a force to be reckoned with in this tournament – Moors' team had a good rhythm, produced a fine all-round team effort and was able to capitalize on its physical strength, speed and athleticism.
Roel Moors, Head Coach of Brose Bamberg, commented: "I think Sigma moved and it wasn't an offensive foul by Crawford at the end. That hurt us hard. But I know myself how difficult it is for referees to see that. We should talk about the many offensive rebounds we allowed Alba to snap up rather than individual calls at the death. I'm happy that we fought our way back after a poor start. In particular, our young players gave us a lot. We carved out good shooting opportunities, but drained too few shots from downtown and that decided the game."
Brose Bamberg faces its second game in the Final Tournament on Thursday, June 11, 2020, this time against MHP Riesen Ludwigsburg, who has already won twice. The tip-off is at 8:30 p.m.
For more information visit www.brosebamberg.de and www.easycredit-bbl.de.