Würzburg
Brose Bamberg steamrollers Würzburg with a magnificent final period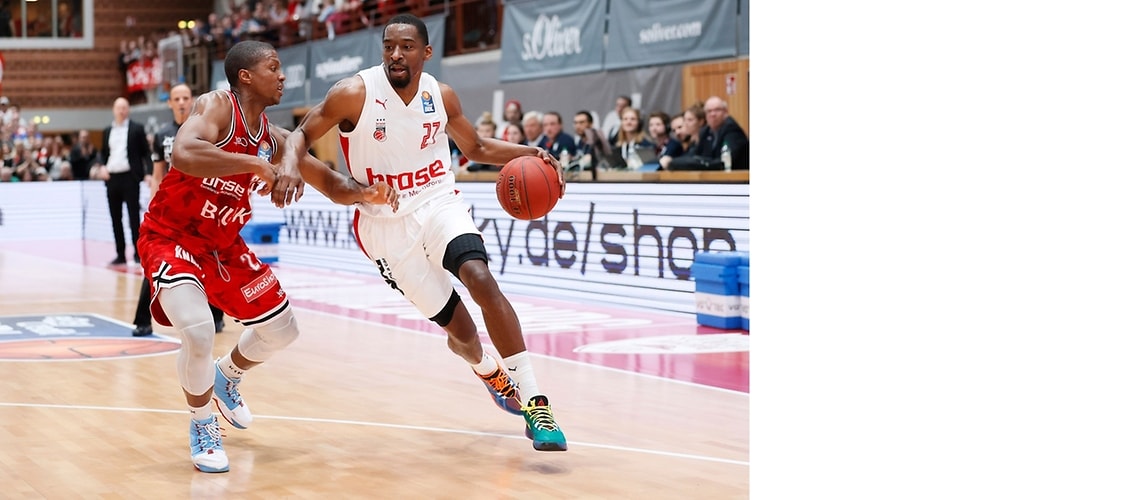 Würzburg, 03-07-2020
After Brose Bamberg found it tough going for 30 minutes on the road at local rival s.Oliver Würzburg (63:67), the team of Head Coach Roel Moors moved into overdrive and trounced the club from Lower Franconia by taking the final period 32:10. The reward: A 95:77 away win and also the better aggregate in a direct comparison with its playoff rival.
However, Brose Bamberg needed a long time in defense to adapt to its opponent's high-paced play: Seven of the home side's first ten attacks ended in it scoring. That left the visitors trailing 10:15, but then the tenacious Elias Harris, Kameron Taylor and new signing Jordan Crawford started the comeback. Taylor tied the encounter at 21:21 shortly before the end of the period, but Würzburg's Obiesie managed to drain a buzzer beater to make it 21:24 to the cheers of the around 3,000 fans. Bamberg was also unable to get a grip on Würzburg's Luke Fisher in the second period, as the center was repeatedly able to roll to the basket and add easy lay-ups. The home side also buried four buckets from downtown, with the result that Bamberg surrendered its 43:40 lead after Crawford's fourth three before the break and went in 45:51 behind.
Würzburg added two buckets right after the restart to chalk up its highest lead (45:55). Kameron Taylor's four-point play (a three plus a bonus free throw) to make it 49:55 was the rallying call. Taylor's next bucket from beyond the arc and that by Paris Lee cut the deficit to 59:61 and Bamberg, after conceding just 16 points in the quarter, went into the final period with the score at 63:67. And Bamberg was then so solid at the back that Würzburg lost possession ten times on its attacks, on four occasions because it was not able to get a shot away within the 24 seconds. In contrast, Bamberg played as if possessed in offense. With his team trailing 63:69, Retin Obasohan drained a three and a lay-up in the space of 70 seconds to put Bamberg 70:69 ahead, after which top scorer Jordan Crawford added two lay-ups to make it 75:71. Würzburg cut the gap to 75:73, but the home side's fans were silenced in the next few minutes: Crawford scored a three from around nine meters out, Tre McLean added another, Retin Obasohan contributed five points in just five seconds, and Crawford made a thunderous lay-up to produce a run of 13 points without reply to make it 88:73 and seal victory. Assem Marei gave his side its highest lead (93:75), after which Obasohan scored Bamberg's final points with a beautiful slam-dunk.
Roel Moors, Head Coach of Brose Bamberg, commented: "I'm very proud of my players, especially because of their performance in the second half. Everyone knows what happened in Berlin last week, so we really needed a win. We had some problems in the first half, especially with Würzburg's pick and roll play to Luke Fisher. We did an excellent job in defense in the second half and played with more and more confidence in attack."
After almost four-and-a-half weeks, Bamberg finally have another home game, when it welcomes Telekom Baskets Bonn to the Brose Arena on Sunday, March 15, 2020 (tip-off: 6 p.m.).
For more information visit www.brosebamberg.de, www.easycredit-bbl.de and http://www.championsleague.basketball/de.