Bamberg
Brose Bamberg struggles to win against injury-hit Towers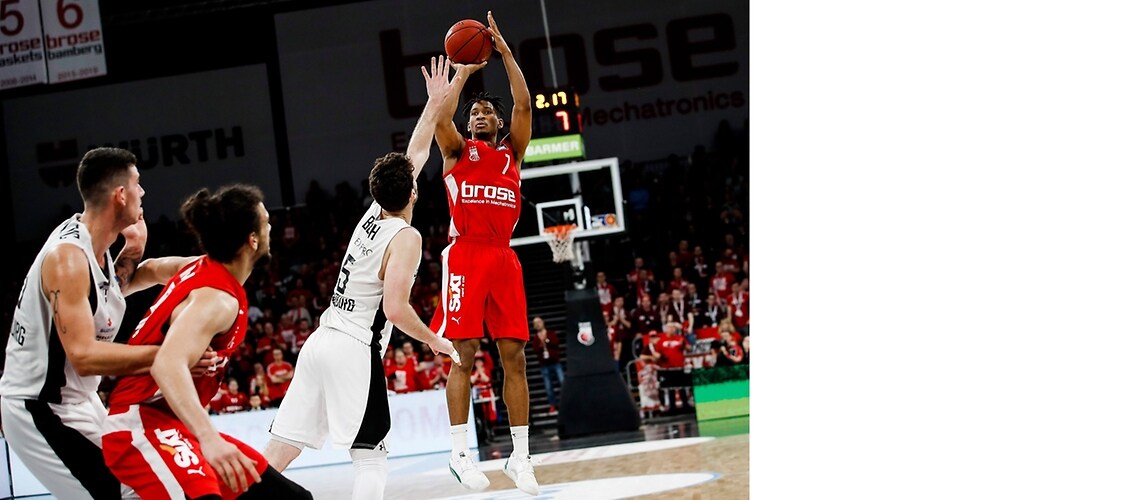 Bamberg, 02-11-2020
It was not a beautiful victory to behold as Brose Bamberg captured a hard-fought 77:66 win over Hamburg Towers, the league newcomers who are fighting to avoid relegation and whom the team of Head Coach Roel Moors trounced 89:59 on the road in October. Moreover, the visitors were weakened due to the fact that they were without four key players through injury.
Bamberg needed to make amends after the 66:80 loss in Vechta, but got off to an uptight start against Hamburg. The home side needed two-and-a-half minutes to get off the mark, by when Hamburg was already 0:4 ahead. It was a further four minutes before Paris Lee tied the scores at 12:12 with a bucket from downtown. Nelson Weidemann and Tré McLean added threes to make it 25:17 shortly before the end of the period. Retin Obasohan carved his way nicely through Hamburg's defense a number of times in the second period to earn points from the foul line. Yet after Darion Atkins (10 points) made it 34:24 midway through the quarter, the home side's thoughts were already on half-time. Given that Hamburg was without playmakers Heiko Schaffartzik and Justus Hollatz and centers Jannick Freese and Prince Ibeh, Bamberg probably underestimated the Towers' desire and fighting spirit. The home side went almost four minutes without scoring, enabling Hamburg to cut the deficit to 34:32. Retin Obasohan put Bamberg out of its misery with a bucket from beyond the arc and added a slam-dunk on the buzzer to make it 39:32 at the break.
A placid affair with few highlights ensued in the third period: Hamburg reduced the gap to five points on a number of occasions (41:36, 51:46), but Bamberg produced a small run in between to stretch its advantage briefly to double digits (51:41). Kameron Taylor and Darion Atkins then made the score 57:48 at the end of the third quarter. The home side led 62:50 after free throws by Paris Lee (10 points) and Tré McLean's second three and ought to have sealed victory. But after two steals, Hamburg added a slam-dunk that stirred the visitors into action. The Towers suddenly scored two threes plus a bonus free throw in the space of 40 seconds to slash the lead to 64:61. And nervousness befell Bamberg again in attack, with the result that it conceded turnovers and missed shots, allowing Hamburg to move 64:65 in front with four minutes remaining. Roel Moors called a timeout and apparently found the right words. Back on court, the home side were more focused right away and Christian Sengfelder drained his only bucket of the evening to recapture the lead. Bamberg was also highly alert in defense at long last and forced the Towers to concede three turnovers on their attacks. At the other end, Kameron Taylor (13 points) shouldered responsibility and drained two difficult half-distance shots (70:65). And when Paris Lee added a three to make it 73:65 with one minute left, the game was finally decided. Top scorer Retin Obasohan (15 points) ended the scoring with a slam-dunk.
Roel Moors, Head Coach of Brose Bamberg, commented: "I'm happy about the win, but less about our performance. We made life difficult for ourselves again and didn't find any consistency in our game. We make too many mistakes and aren't aggressive enough in attack and defense. We only had 11 free throws again, we have to do better in that department. Now we have to use the break to try out new things and improve old ones. We have to find our consistency and root out our mistakes."
The two-and-half week break for the internationals means Bamberg's next game is not until March 1, 2020, when it travels to Alba Berlin (tip-off: 3 p.m.).
For more information visit www.brosebamberg.de, www.easycredit-bbl.de and http://www.championsleague.basketball/de.