Berlin
Brose Bamberg suffers trouncing at Alba Berlin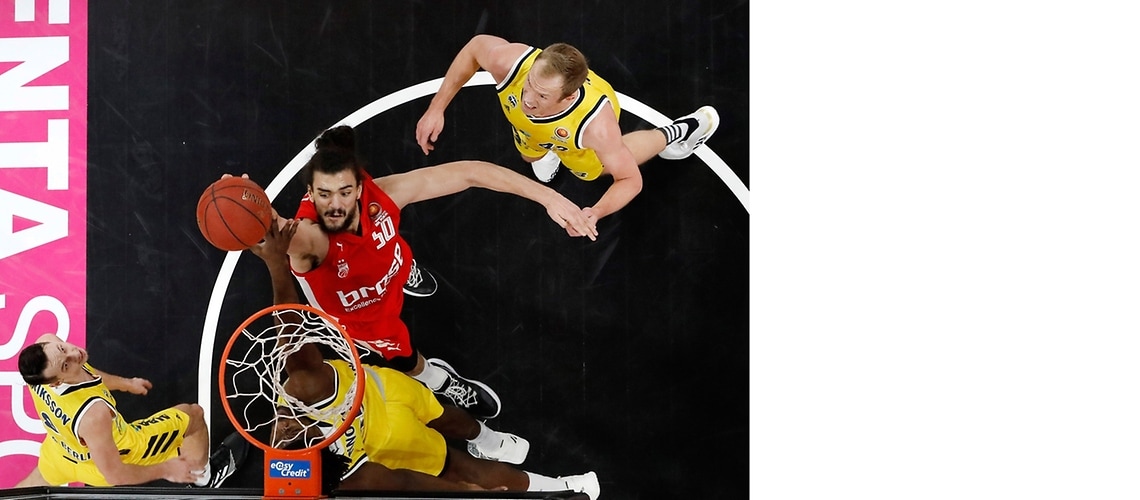 Berlin, 03-01-2020
Brose Bamberg was without a game for three weeks and had a fortnight to integrate its latest new signing Jordan Crawford into the team and prepare extensively for its opponents. After an opening eight minutes that were evenly poised (24:25), however, Alba Berlin clinically sent the below-par team of Head Coach Roel Moors packing by the margin of 70:107.
Brose was able to equalize the five-point lead Berlin had taken after five minutes (10:15), as Paris Lee scored six of his nine points to spark his side's comeback and the former NBA player Jordan Crawford drained his two attempts from beyond the arc to make it 24:25. However, the 20-year-old Jonas Mattissek shattered Bamberg's hopes of taking the lead with seven points in the space of two minutes, helping his team produce a run of ten points without reply by the end of the period (24:34). Bamberg was no longer able to reduce the deficit in the second quarter: Crawford added a free throw and Elias Harris a lay-up to make it 27:36, but then Alba opened up a 15-point advantage. Bamberg was unable to prevent Berlin's quick transitioning from defense to attack, with the result that Alba scored 19 points on fast breaks. In contrast Roel Moors' team, which according to the Head Coach had worked on its pace during the break for the internationals, failed to convert a single fast break in the whole 40 minutes.
The teams went in at half-time with the score standing at 45:60 – and just five minutes later the game was decided: Bamberg went without scoring on ten attacks, conceding seven turnovers and missing three shots – an appalling performance. Berlin added 13 points in that time to surge 73:45 ahead as Bamberg failed to put up any more resistance. And even though Berlin rested many of its key players in the fourth period, the gap continued to grow wider and wider up to the very end. Only Assem Marei and Jordan Crawford (11 points apiece) got into double digits in the 70:107 thrashing.
Roel Moors, Head Coach of Brose Bamberg, commented: "Today we saw a team of kids and a team of men. ALBA was at a completely different level and played with a completely different basketball IQ. It was also more aggressive and the combination of the two hurt us a lot. We got off to quite a good start in offense, but nothing clicked at all in defense. To compound matters, we lost possession far too often."
Brose Bamberg faces a key game in the battle to qualify for the playoffs on Friday, March 6, when it travels to s.Oliver Würzburg (tip-off: 8:30 p.m.). The team of Head Coach Roel Moors has to win by more than three points to have a better aggregate from the direct encounters between it and the club just above it in the table.
For more information visit www.brosebamberg.de, www.easycredit-bbl.de and http://www.championsleague.basketball/de.