Hamburg
Brose strolls to victory in Hamburg against weak league newcomers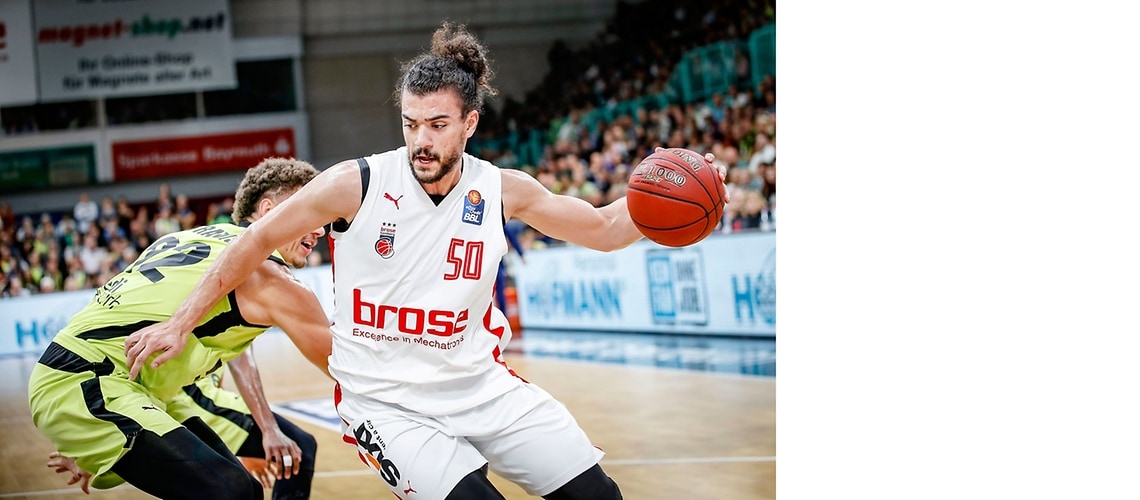 Hamburg, 10-26-2019
Brose Bamberg returned from the port city of Hamburg with a comfortable 89:59 win. Newly promoted Hamburg Towers was no evenly matched opponent: The team of Roel Moors was ahead from the first minute onward and continuously stretched its lead, even though the Head Coach spread the time on court among his entire 12-man squad and often rested his key players.
Since Brose Bamberg defended strongly from the tip-off, the fact that it was pretty sedate in attack to begin with was not that worrying. Following a bucket from downtown by Nelson Weidemann to make it 3:0, the visitors needed until the fifth minute to score again – it was once again Weidemann (7 points) who made it 5:2 –, but before that the Towers had not had much success against Bamberg's defense. From then on, Bamberg's offense began to tick over smoothly: The cup winners scored on six successive attacks – in particular the top scorers Assem Marei (21 points) and Christian Sengfelder (10 points) made their mark in this spell. Louis Olinde, who hails from Hamburg and was welcomed with a lot of applause at the club he played for in his youth, extended the gap to 16:4 with a three. When Hamburg gained encouragement with a thunderous slam-dunk and reduced the deficit to 31:24, it was again the trio under the basket – Marei, Sengfelder and Olinde (6 points, 8 rebounds) – that helped their side produce a 17:2 run and take a decisive 48:26 lead.
Bamberg did not give their opponents a look-in in the second half, either. Although the visitors conceded 17 turnovers as they built their moves, their uncompromising defending meant that Hamburg rarely capitalized. The home side reduced the deficit to "just" 14 (48:34) again shortly before the break, but then playmaker Paris Lee showed a brief flash of his class, making all of his seven points and three of his seven assists to help Bamberg pull more than 20 points ahead (68:45). Maurice Stuckey (8 points) and Michael Carrera (13) put their stamp on the final period, with the result that Bamberg was able to stroll pretty effortlessly to a deserved away win and move up to fourth in the table.
Brose Bamberg's Head Coach Roel Moors commented: "After a few unsatisfactory games recently, we urgently needed this win. So it was really important for us to come to Hamburg and display the right attitude. We did that and played as one team. 20 assists and 41 rebounds are good numbers. Was it a great game of attacking basketball? Probably not in view of the many turnovers. But we fought and were ready to defend physically. We made our presence felt."
Moors' team now faces a key game in the Champions League on Wednesday, October 30, 2019, on the road against the Turkish club Gaziantep, which is likewise without a win in the competition. Bamberg needs to capture its first victory to avoid dropping further behind the playoff spots in the group phase. The encounter tips off at 6 p.m.
For more information visit www.brosebamberg.de, www.easycredit-bbl.de and http://www.championsleague.basketball/de.