Bamberg
Champions League: Brose Bamberg defeats Mornar Bar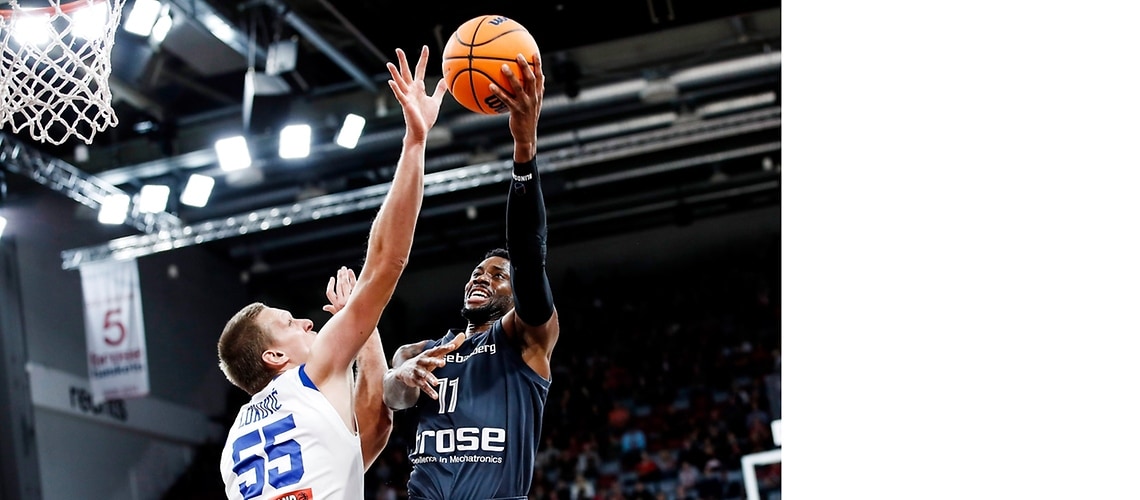 Bamberg, 11-05-2019
If it had not already done so, Brose Bamberg has now arrived in this Champions League season. The 81:76 defeat of Mornar Bar was the first home win for the team of Head Coach Roel Moors and, following the victory on the road in Gaziantep a week ago, means it has won two and lost two in this season's competition. Brose is now tied in fourth with Peristeri in Group C. However, the margin of victory over the Montenegrin club could have been far clearer.
Two Bamberg players stamped their mark on the game in the first period: Assem Marei was an incessant hive of activity below the baskets, while point guard Paris Lee took a number of shots from downtown. The two chalked up eight points apiece and the only other scorer for Bamberg in an evenly matched first period, which ended 18:18, was Elias Harris with a lay-up. At the start of the second quarter, the other Bamberg players also came out of their shell and were far more aggressive in defense, fought harder to snap up rebounds and repeatedly had an eye for a free-standing teammate. Tré McLean demonstrated his improving form with three threes in the space of five minutes – the American added 13 of his 15 points in the second period. Yet as so often in recent games, Bamberg produced a good run only to allow the opposing side to get back into the game. Brose scored 13 without reply to surge 31:18 in front, but then the visitors exploited its mistakes in defense to score easy points and cut the deficit to just 44:37 at half-time.
Bamberg's game continued to ebb and flow after the break: First of all, Mornar Bar went ahead (46:47), but then Bamberg struck back through the strong top scorer Assem Marei (17 points, 6 rebounds) and Kameron Taylor also found his mark to add 12 points and help put his side 61:55 in front. However, the visitors drained a buzzer-beating bucket from outside on the last attack of the period to reduce the gap to 61:58. Thanks to tough defending, Bamberg thwarted all the visitors' efforts in offense at the beginning of the final period, but was only able to pull 67:58 ahead after missing a number of lay-ups and a really weak showing from the foul line: It made just nine out of 18 free throws and so squandered nine points. The visitors reduced the gap to 74:71 with two minutes remaining. However, Elias Harris then took control and as good as decided the encounter with five points in a row. The captain made ten of his 12 points in the final quarter and so ensured victory. Christian Sengfelder, who was strong below the basket and snapped up 11 rebounds, added Bamberg's final points to make it 81:74.
Brose Bamberg's Head Coach Roel Moors commented: "We're making good progress. However, after playing strongly and carving out a lead, we're not able to hold onto it. We definitely have to work further on that. In particular, we were good in rebounding. 16 offensive rebounds are something I like to see. I was in a bit of a dilemma in the final period: Should I bring back Assem Marei, who had played very well up to then, or leave Elias on court? Everything paid off in the end."
Bamberg now faces a game on the road at Telekom Baskets in Bonn on Sunday, November 10, 2019. The club from the Rhineland, which has already dumped FC Bayern out of the cup this season, suffered a 59:91 trouncing in the Champions League in midweek.
For more information visit www.brosebamberg.de, www.easycredit-bbl.de and http://www.championsleague.basketball/de.