Peristeri
Champions League: Brose Bamberg knocked out in the group stage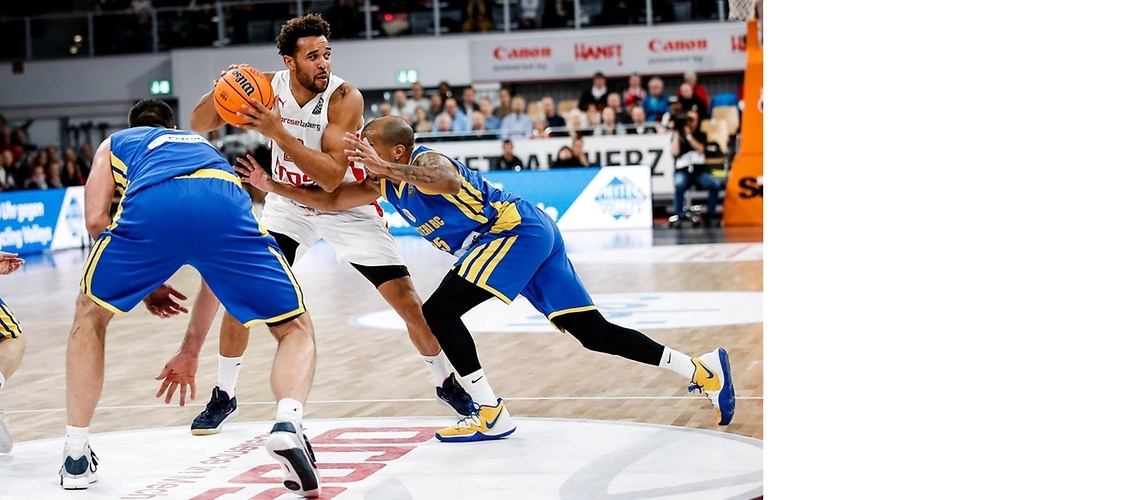 Peristeri, 01-28-2020
Brose Bamberg reached the Final Four last season, but this time has failed to survive the group stage in the Champions League: After the 75:78 defeat at Peristeri Winmasters, the club can no longer advance to the playoffs with one game day remaining in the regular season. The encounter in the suburbs of Athens was symptomatic of Bamberg's season so far.
Weak shooting from the foul line has been a common thread running through Bamberg's game since the start of the season and it managed just 13 out of 23 attempts in Peristeri – a meager 56 percent. The visitors gifted ten points from the foul line, with Assem Marei alone accounting for seven of them – he made just one out of his eight free throws. The opening spell was typical of Bamberg's season to date: One missed shot and three turnovers on its first four attacks allowed the highly motivated Greek club to pull 0:9 in front and then stretch that to 4:14 by the 5th minute. When Kameron Taylor was brought on, that injected more energy into Bamberg's play and it was able to reduce the deficit to 18:23 by the end of the period. The visitors kept in contention in the second quarter, but conceded too many turnovers. Top scorer and top rebounder Kameron Taylor (19 points, 8 rebounds) cut the gap to 41:42 at half-time with a buzzer-beater.
Playmaker Paris Lee improved after the break and so, after trailing 42:47, Bamberg was able to snatch a 56:50 lead. However, the team failed to extend its advantage after that. Lee missed a free throw and shot from downtown, while Kameron Taylor lost possession – Peristeri fought its way back to 56:54 in the space of three attacks and then left Bamberg trailing by 58:59 going into the final period. Bamberg then improved to begin with: Elias Harris was strong below the basket and put his side 69:67 ahead thanks to four of his total haul of 13 points, after which Paris Lee (13 points) drained his bucket from outside to give Bamberg a 74:71 lead with three minutes remaining. However, another drama ensued for Bamberg in crunch time. Peristeri also did not manage to score on four consecutive attacks and could only add one free throw, yet Bamberg did not capitalize on that: Marei missed three free throws, while Paris Lee and Retin Obasohan failed to hit the mark with their open shots. Peristeri equalized with 60 seconds to go. After Head Coach Roel Moors called a timeout, Paris Lee was picked to take the three, but his shot did not even hit the hoop and the opposing side went down the other end to take the lead with 18 seconds left on the clock. Christian Sengfelder's lay-up only hit the hoop – and so Bamberg's exit in the group stage was sealed.
Brose Bamberg's Head Coach Roel Moors commented: "It's a tough defeat. We displayed the right attitude, but had too many shortcomings in the final spell – small details that cost us victory. As I said, it's a defeat that's difficult to digest. We're still going through a process, but we need results. And today we didn't get the result we wanted."
Brose Bamberg now welcomes Fraport Skyliners Frankfurt to the Brose Arena in the easyCredit German Basketball League on Sunday, February 2, 2020 (tip-off: 3 p.m.).
For more information visit www.brosebamberg.de, www.easycredit-bbl.de and http://www.championsleague.basketball/de.