Nymburk
Champions League: Brose Bamberg loses narrowly with nine men, but displays magnificent morale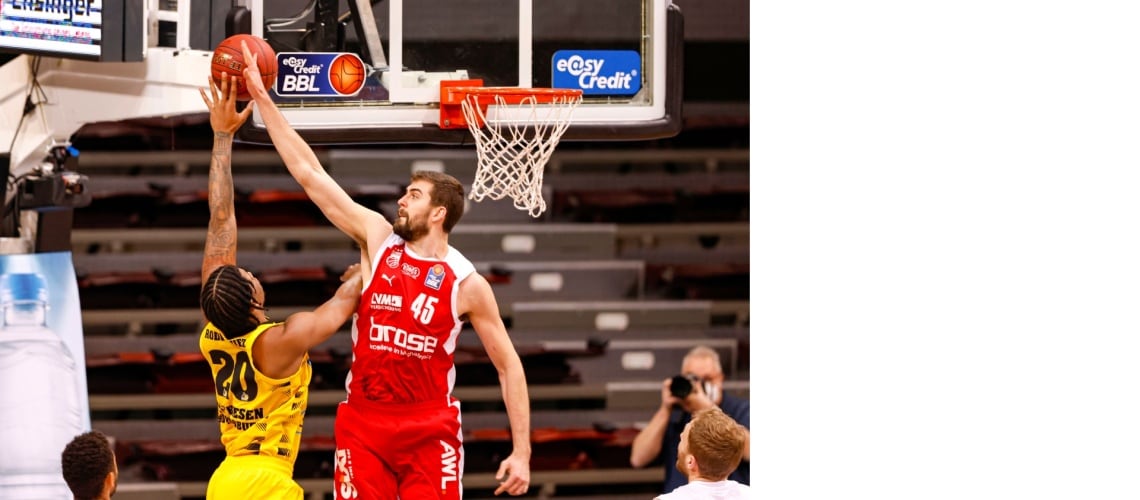 Nymburk, 03-02-2021
Brose Bamberg has suffered its first defeat in this season's Champions League in its first playoff game. The still heavily injury-hit team of Head Coach Johan Roijakkers trailed by 16 points with five minutes to go, but then showed great morale and finally lost by 87:91 on the road at ERA Nymburk. Since the playoffs are staged in groups of four, Bamberg can nevertheless achieve the important goal of a better aggregate in a direct comparison with its rival by winning by more than five points at home in the Brose Arena.
The opening playoff game was marked by crazy circumstances surrounding it: First, Bamberg had to give up its home court advantage in the first game, since the Czech club from Nymburk is not currently allowed to travel to Germany due to the coronavirus restrictions. The encounter against a club with a string of national titles to its name was held in the small Nymburk arena, a first for Bamberg: The venue for previous games between the two where spectators had been permitted had always been in Prague. On the journey there, the team bus got stuck in the slush at the entrance to the hotel and the players and coaches jointly tried to get it moving again. All Bamberg players tested negative for coronavirus, meaning that Roijakkers was able to call on everyone in his decimated squad – the injured Fieler, Ogbe, Lockhart, Larson and Grüttner-Bacoul had stayed at home. Devon Hall got off to a strong start, added Bamberg's first eight points, but with the score standing at 11:11 Nymburk's Retin Obasohan – until very recently a Bamberg player – turned on the heat and left his former club trailing by 16:28. The Belgian amassed 18 points in the first half – and the last two before the break were tragic for Bamberg: Bennet Hundt led the attack with the score at 45:52, but Obasohan stole possession from the young playmaker and slammed in the dunk. As a result, Bamberg went in at half-time with a large deficit (45:54).
Irksome defending by the Czech club and unusually weak shooting percentages by Michele Vitali (2/10 shots, 11 points) and David Kravish (5/10 lay-ups, 13 points) meant that Bamberg was never fully able to close the gap in the third period and went into the final quarter 63:70 behind. The visitors were then caught completely napping at the start of it: Nymburk steamrollered Bamberg to move 68:84 ahead with five minutes left. However, a splendid run of 13 points without reply thanks to threes by top scorers Devon Hall (24 points) and Christian Sengfelder (18) cut the deficit to 81:84. Hall then missed two shots and the home side pulled away to 81:89, but Sengfelder struck back with the next bucket from downtown and Hall added a free throw to make it 87:91.
Johan Roijakkers commented: "It's never nice to lose, especially when one or two possessions at the end decide the game. Nevertheless, we played well. I liked how we moved the ball, how we played quickly. When you're 16 points behind, you can soon give up and end up losing by 30. But that's not my team's character. It fights for every ball, right to the end. That almost paid off today."
Bamberg has to go into quarantine for at least five days after its return from the Czech Republic. Its German league game against Würzburg on Saturday will therefore be postponed. If the players' coronavirus tests turn out negative, its next game will be away against Casademont Zaragoza next Wednesday, March 10, 2021 (tip-off: 8 p.m.).